Are paid Shopify themes worth it?
Yes, paid Shopify themes are worth it. However, this really depends on your knowledge and the level of experience you hold in the eCommerce world.
If you have enough knowledge and funds to hit the ground running, purchase a theme.
The benefits of a paid theme will always outweigh a free theme. That's like asking if a big house, is better than a small house without context. The answer will always be: "It depends". It depends on your Shopify skill level, budget, eCommerce knowledge, and desire to be the best.
Whilst the best free Shopify themes come with the standard code editor and theme editor, they will lack that all-important support and version releases.
In order to visualize, let's look at two examples, a free theme from the Shopify theme store, and a paid theme from ThemeForest.
The below examples will give you a brief understanding to determine whether a paid theme is worth it to you.
Paid And Free Theme Comparison
When first getting started with Shopify themes, you really need to evaluate your current skill level and choose a theme that aligns with your goals.
In order to achieve a loose comparison, we've opted to choose a "chocolate" theme. Hypothetically speaking, we're going to open a chocolate gift box store, this implies that in order to be trusted, and considered one of the best, the UI needs to be atheistically pleasing with a solid UX.
What you need to consider:
UI - what it looks like
UX - The user experience
Layout customization
The depth of customization
Support
Version releases
Before we proceed, we need to find chocolate Shopify themes! If you're following along, Search for "free Shopify chocolate themes" on Google.
As you can see, some listings have "free" in the title, but you'll only find paid chocolate themes.
It's paramount that the above is digested well! The vast majority of new store owners will opt for a free theme because there are not willing to invest in their own business, thus their store looks like every other store.
Free Theme From The Shopify Theme Store
Due to the lack of free chocolate themes, we're going to select a theme that closely matches our hypothetical example. Nonetheless, this already alludes to the issue of free themes right?
We want to build an epic chocolate store, with a solid theme to boot, BUT it doesn't exist. So, you have two options, customize it by outsourcing, or simply purchase a paid theme.
Below, we've selected the origin theme, whilst it's a theme designed for bags, we're looking for the color palette, and how it blends with darker colors.
Obviously, a little imagination is required to visualize chocolate instead of bags, although, even with visualizing, we're immediately hit with the lack of configuration and more notably layouts.
The above is the prime reason for a paid theme, or better still, a premium theme.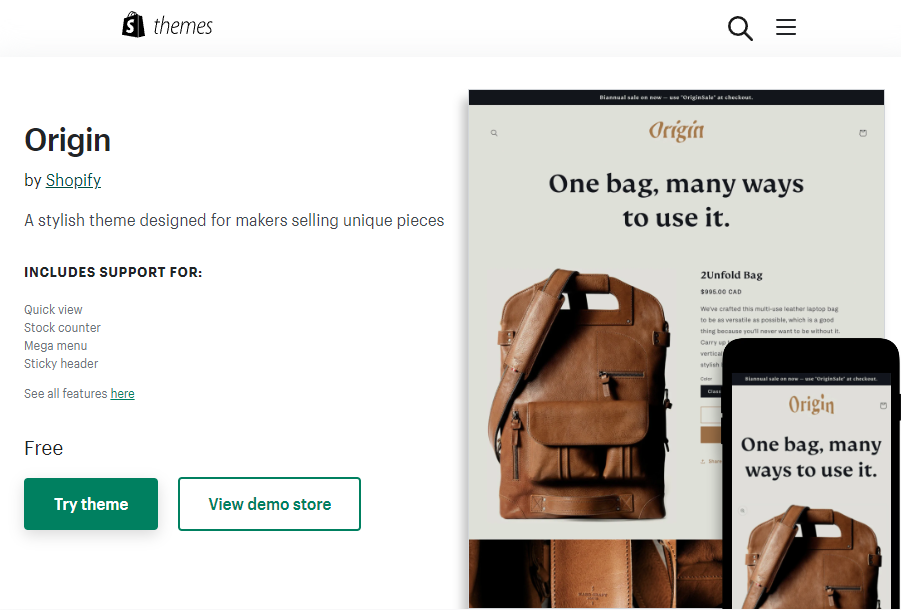 If you plan to use a free theme, ensure to perform all necessary steps to stand out from the crowd. We've said it many times, you can use a free theme but you'll be limited to the scope of the theme - meaning if you don't have the skills to heavily customize, you'll need to outsource.
Paid Theme From ThemeForest
Continuing on with the chocolate vibe, we've found a chocolate theme, that's responsive, on-brand, affordable, has multiple layouts, optional support, and much more.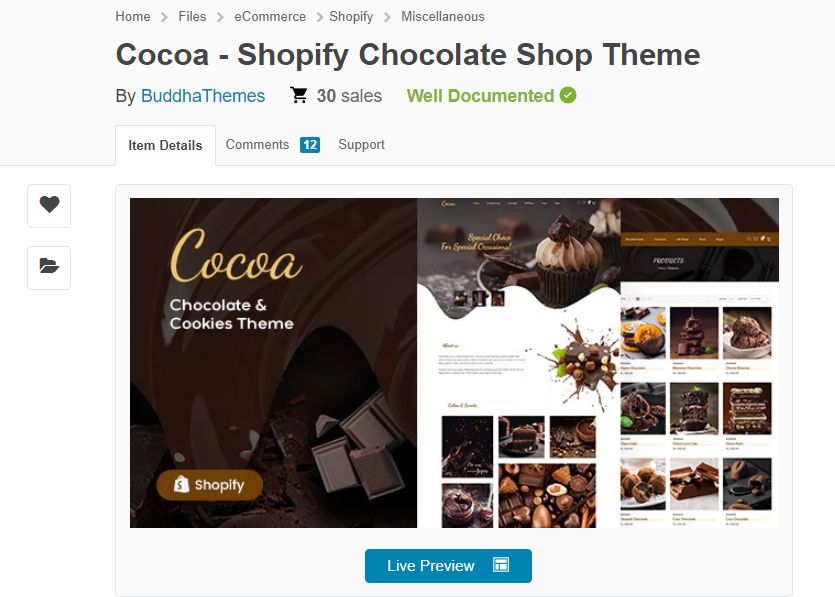 Not only does the above theme contain multiple layouts and advanced configuration, the UI is also on point, meaning we have "something" to build a brand.
The only step to complete before launching is the images - matching similar graphics. If graphics design is not your forte, simply outsource to Fiverr, or UpWork!
Themes Conclusion
If you're looking to grab a visitor's attention, versioning, layouts, better configuration, and require support, then a paid theme is worth it.
It's important to note, you can always install a free theme and pay for it to be customized. However, most new store owners don't have the funds to do so, thus selecting a paid theme that closely matches the vision and brand will allow you to hit the ground running.
The Takeaway
Choosing a paid theme over a free theme should be the favored approach, but if you're experimenting to understand what key elements are important to you in a theme, then go for the free theme.
Although, you need to determine if the UI, UX, support, and version releases are important to you. If yes, to the above, go for a paid theme.
To summarize we've briefly covered:
Are paid Shopify themes worth it
What next:
Share this post, every little helps.
Subscribe to our newsletter below for tips and tricks to help boost sales.
Additional Shopify Resources
With Shopify being one of the largest eCommerce platforms on the market means you'll never be short of resources to learn how to build a profitable eCommerce business.
Kanteneo aims to be the best Shopify blog on the market, but you may require additional resources to help you on that journey. Below we've listed a top-selling Shopify book by Veronica Jeans to help you learn how to launch a profitable business.
Author