How to Add An Order Fulfillment Center to Shopify
Setting up an order fulfillment center on your Shopify store is like a rite of passage. Once you start selling enough inventory, it will become difficult, if not impossible, to ship on your own. For that reason, many people choose to outsource fulfillment so they can focus on growing their Shopify stores instead of packing boxes.
Of course, in order to outsource order fulfillment, store owners must complete some initial setup within Shopify. There are two broad ways to do this:
Find and install the Shopify app for your fulfillment center of choice
Add a custom fulfillment center to Shopify so that order information can be sent via email
Shopify has made it easy to setup order fulfillment centers through both of these methods.
Shopify tutorials:
What happens when setting up an app for a fulfillment center?
Most major order fulfillment centers have the ability to integrate directly with Shopify. This integration allows order information such as items ordered, quantity ordered, and the recipient's address to be transmitted within minutes or even seconds of ordering.
With Shopify, direct integration of a fulfillment center's system and a given Shopify store is handled by installing an app on the Shopify store. As part of the installation process, Shopify store owners often enter in their login information for the fulfillment center. This allows data to be transmitted easily back and forth between the fulfillment center and Shopify.
There are slight variations in how this is handled between different fulfillment centers, but the process seldom takes more than 15 minutes to set up.
What happens when setting up a custom fulfillment center?
Not every fulfillment center offers the ability to integrate with Shopify. But you still need a simple way to transit order information to those fulfillment centers too. For fulfillment centers not driven by integrations, most accept emailed order information, which Shopify is able to provide automatically.
Whenever an item or complete order is marked as fulfilled, the fulfillment service is then sent an email with all order information. That gives them everything they need to fulfill the order on your behalf.
How to Add An Order Fulfillment Center to Shopify
The below tutorial uses the Fulfillrite Shopify app as an example, but you would search for the specific fulfillment center you are working with.
Step 1: Settings
Navigate to the left side panel, scroll to the settings button and click.

Step 2: Apps and Sales Channels
After clicking settings a navigation should appear. Locate and click "Apps and sales channels".

Step 3: Shopify App Store
Locate and click "Shopify App Store" in the right hand corner.

Step 4: Fulfillment Search
Many order fulfillment centers have Shopify apps. Check first to see if yours is listed in the Shopify App Store.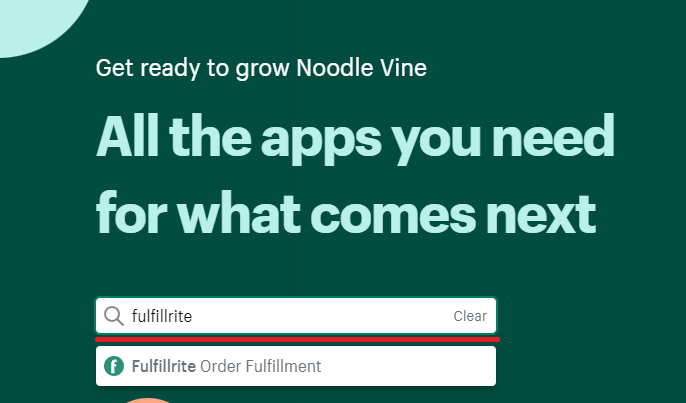 Step 5: Add app
Locate and click on "Add app."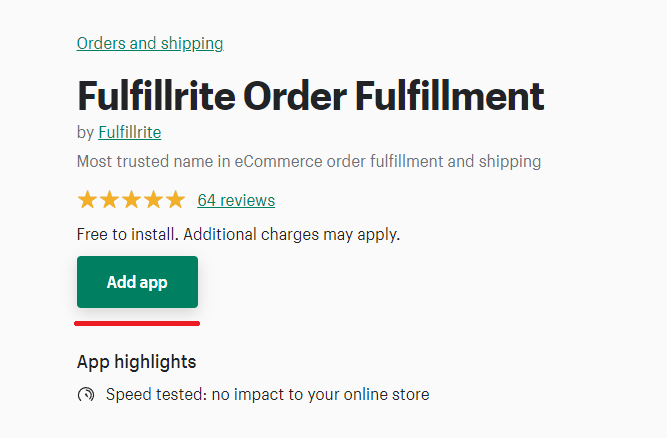 Step 6: Install App
Locate and click on "Install App."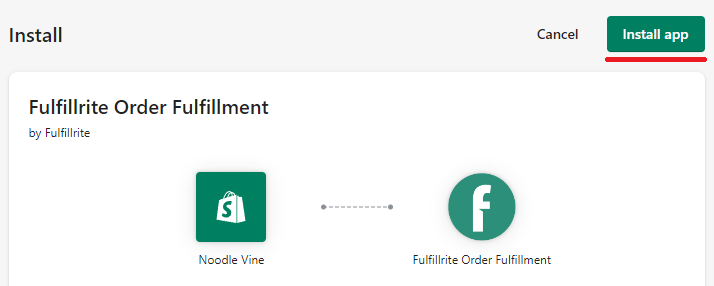 Step 7: Fulfillment Configuration
This varies by fulfillment center. Many will request that you log into their software with your account.
Need help fulfilling your Shopify orders? Request a free quote from Fulfillrite today.
How to Add Custom Fulfillment in Shopify
Step 1: Settings
Navigate to the left side panel, scroll to the settings button and click.

Step 2: Shipping and Delivery
After clicking settings a navigation should appear. Locate and click "Shipping and delivery".

Step 3: Fulfillment Service
Scroll down to the bottom under Custom order fulfillment. Locate and click "Add fulfillment service."
Step 4: Fulfillment Center Details
Enter in a name and email address associated with your custom fulfillment center. Shopify will be sending emails containing order information to the email address you provide, so be sure to double-check with your fulfillment center before entering in an email.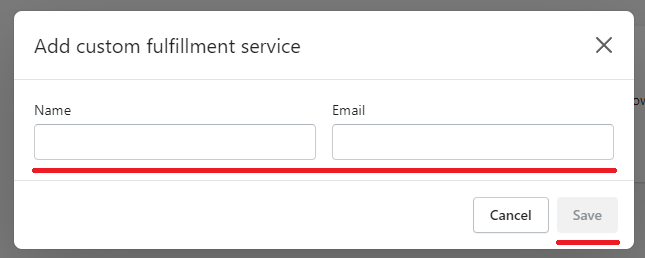 As a reminder, it is when you mark an item or complete order as fulfilled, that the order fulfillment center will receive an email. That will then give them what they need to fulfill orders on your behalf.
The Takeaway
Adding an order fulfillment center to your Shopify store is a huge milestone, because it means your business has grown to where you cannot handle on the work on your own. However, in order to allow others to effectively take care of work for you, you have to make sure the technical parts behind the scenes are all taken care of.
Take a moment to set up your fulfillment center. Double check to make sure all required information is going to where it needs to go. Then take a moment to relax knowing that you don't have to ship all your own orders anymore!
To summarize we've briefly covered:
The difference between using the App Store and using Custom Fulfillment to add a fulfillment center
How to add a fulfillment center via the App Store
How to add custom fulfillment to Shopify
What next:
Additional Shopify Resources
With Shopify being one of the largest eCommerce platforms on the market means you'll never be short of resources to learn how to build a profitable eCommerce business.
Kanteneo aims to be the best Shopify blog on the market, but you may require additional resources to help you on that journey. Below we've listed a top-selling Shopify book by Veronica Jeans to help you learn how to launch a profitable business.
Author