9+ Tips on How to Get Started Selling on Shopify
As the number of online stores increases, it has become more competitive and difficult to stand out. Starting and successfully creating a profitable Shopify store requires consistent effort and taking strategic steps to build a solid, reputable brand.
You don't need to be a master at every element to get started selling on Shopify, but you do need to understand how each element, whether that be marketing, SEO, or UX/Design, can help grow your eCommerce business.
Understanding what's really required when learning how to get started selling on Shopify will form part of the "knowledge foundation" and help you step foot on the right track.
However, know your limits, and learn how to identify when it's time to outsource, do not go down the rabbit hole of, "Well it works". In a fierce market, you need to aim to be the best.
Again, take note of your weaknesses and outsource where necessary. You can use Freelancer, and Upwork to find talent.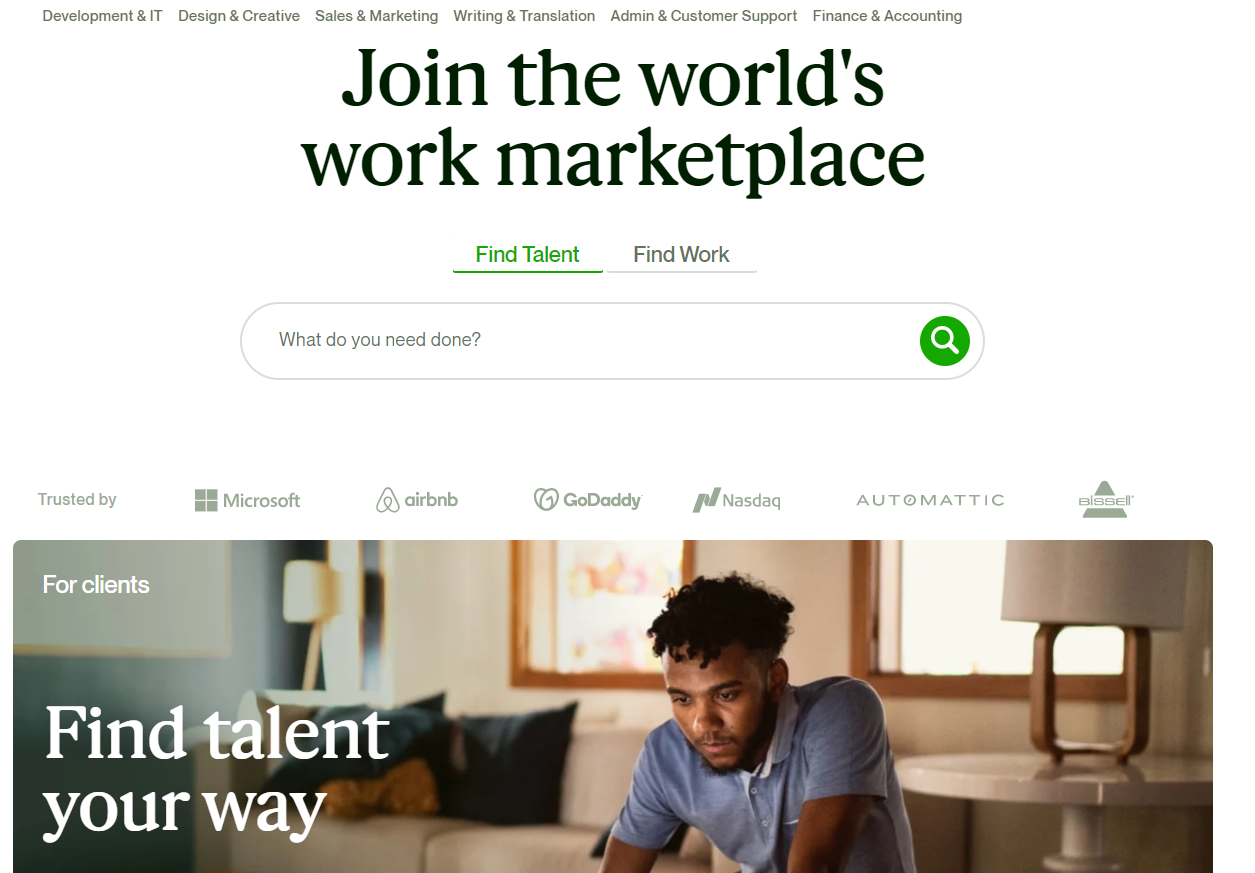 Upwork
Is selling on Shopify Worth it?
With a global usage of 1.7+ million Shopify store owners, 7.5k+ Shopify apps, $1.3 billion in revenue, and 10% market share. Yes, we're more than happy to say that selling on Shopify is more than worth it.
More importantly, you can dip your toes in without having to part with your hard-earned cash! Shopify offers a 14-day free trial!
A 14-day free trial is great, but ideally, you should perform a little due diligence to understand what's involved, and the resources you can utilize to get started quickly.
Our Shopify blog contains outstanding free information, from technical tutorials to marketing! Go check it out.
Failing that, don't be afraid to invest in legitimate, professional courses. Udemy offers(paid) courses to help get you started as quickly as possible.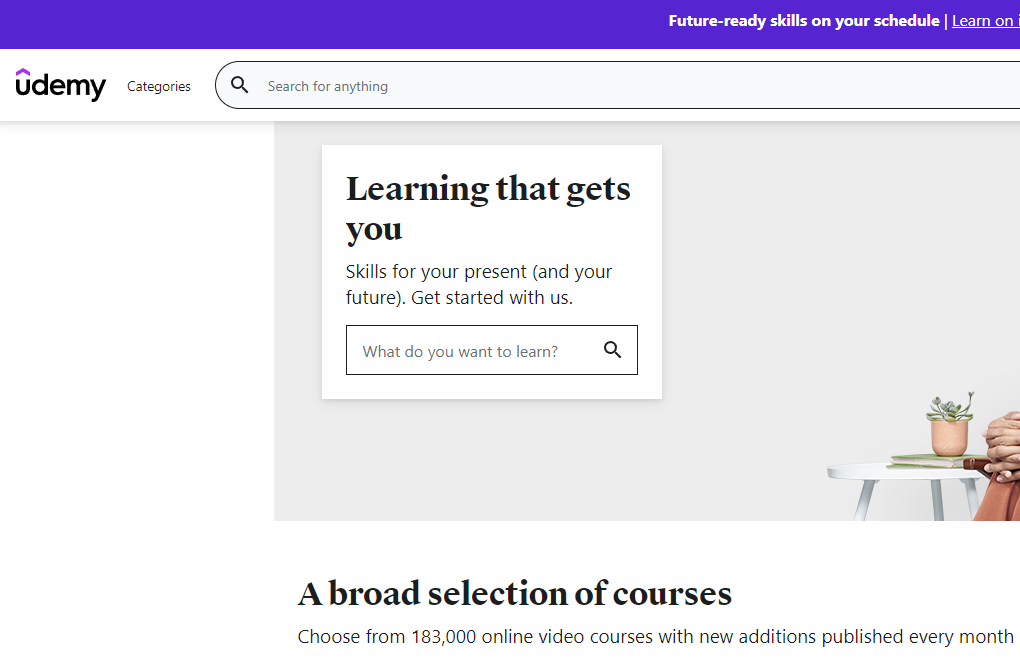 Udemy
Now the blurb is out of the way, below we'll list the tips you really should consider to help you build a profitable Shopify store.
Tips on How to Get Started Selling on Shopify
TIP 1: The Reality of Shopify: Form Your Expectations
Understand first, that marketing and selling products do not have to be technical. But this does not change the fact that the competitive drive on Shopify is at an all-time high. And if you're planning to start an online store, you will face challenges.
Most Shopify stores run into the fourth wall when they form unrealistic expectations and don't have sufficient or current market knowledge.
Without collective understanding, you'll be under-delivering and over-promising.
If you're ambitious enough to stand out from the crowd, make sure you are committed and ready to invest your valuable time and resources to succeed on Shopify.
Your journey on Shopify becomes easier once you get past the initial difficulties of starting a business.
To reiterate: Do not underestimate what it takes to build a business. You may find that you won't secure any sales for the first few months, but when you do, it will be a moment of happiness and a high sense of achievement.
TIP: Learn what it takes to build a business first.
TIP 2: Understand the Cost
One hallmark element that makes Shopify popular is its low startup cost. In terms of plans, Shopify pricing can range from $9 a month to $299 a month.
Fortunately, online merchants don't have to deal with traditional contracts and cover transaction fees on Shopify. However, online startups pay for an external payment gateway.
If you can afford to cover upfront costs for the next 1-2 years on a plan, you can save 10%-20%.
While it depends on the required features for an online store, you can select from three Shopify pricing plans.
A basic plan would be more than enough if you want to run a small and medium startup store. With a basic plan, you should be able to meet the basic needs of your online store.
Basic Plan Cost: $29 a month
Shopify Standard Plan Cost: $79 a month
Advance Plan Cost: $299 a month
One great thing about Shopify is that you can always change your current plan when you need to scale up operations. In most cases, the Basic plan is perfect for users to sell a multitude of products and leverage standard eCommerce features.
But if you want advanced features, you can switch to standard Shopify or Advance plans. In short, the Basic plan has everything to get started on Shopify, and it does not compromise your store's functionality and design.
You can find more information on pricing and fees here: Shopify pricing plans
TIP: Understand all costs, not just the Shopify Subscription.
TIP 3: Perform Product Validation
Product validation allows you to predict if people would purchase your product. Product validation also helps you determine whether or not your Shopify store would be profitable.
Ideally, offering a diverse range of products is better to attract a diverse group of customers. It is an effective way to bump up your sales and drive growth.
Focus on your main product and determine how it addresses a specific problem and whether or not it is unique enough for target customers. Once you get some traction, offer complementary products to customers. And most importantly, continue to brainstorm new ideas and review the product diversification of top sellers within your niche.
In the context of product validation, make sure you're not tied to a redundant idea or narrow thinking. Instead, take a closer look at the data and determine whether or not the products you're offering meet customers' specific requirements.
Product validation paints a clear picture of whether or not there is a market for a product and helps online merchants save a lot of money and time.
Product validation helps you improve your existing idea and how you can better fit into a niche market.
Product validation does not have to be cumbersome, there are two digital approaches:
1, Facebook Ad with engagement content (not a direct sell)
A prime example would be, "what do you prefer?", or "Do you like this?"
Identifying whether it's validated or not, depends on what you are going to measure. Clicks, views, or impressions.
2, Landing page + paid/organic traffic to capture leads
Using a landing page service like Unbounce, you have greater control over the design, flow, and data capture.
The primary goal of a landing page is to capture leads and to engage with potential customers about your products.
Unbounce
Once you've successfully obtained enough information, then you can decide whether a product is deemed in demand.
TIP: Perform product validation to understand whether you have a profitable idea or not.
TIP 4: Identify YOUR Target Market
When selling on Shopify, knowing the preferences and needs of your target audience can make all the difference.
Create a checklist of your target market before you roll out a product. Identifying your target market is one of the most important elements of successfully selling on Shopify.
After all, your target market represents and reflects your marketing campaigns and offered products.
Despite how valuable your product may be – you cannot sell it to everyone and anyone.
You have to limit and narrow down your target audience to improve sales and generate a consistent revenue stream.
An identified target market helps you better deliver and personalize your offerings. You can identify your target market by asking basic questions:
Why do people need this product?
Who will be using this product?
Who will reap the most benefits from this product?
How this product differentiates from similar competitors' products?
Create a Marketing Strategy
Without a solid marketing strategy, you cannot drive the long-term growth of your online store.
Your marketing strategy has to be unique enough to garner the attention of your target audience consistently.
Use your marketing strategy as a tool to connect and engage with customers online and strengthen your brand identity.
Whether it's the return policy, email marketing, frequently asked questions, or social media posts, a great content marketing strategy helps you increase your sales.
TIP: Identify your target market.
TIP 5: Build YOUR Brand
Building a brand is not solely about how fast you can sell your products. Instead, it's about "how" you capture the essence, emotions, and needs of your target audience.
Building a brand boils down to building stronger relationships with your customers and influencing them to purchase your products.
Many eCommerce players focus on Google ads and social media ads that end up hurting their brand. Practically, your brand should cover essential marketing strategies and hover over your online store.
TIP: Build a strong brand.
TIP 6: Understand Fulfillment and Shipping
It is not enough to create an online store to sell products - you have to choose the right fulfillment option to run smooth operations.
Ideally, you should automate your entire fulfillment process. Remember, most customers won't return to your store when poor delivery is involved.
However, online merchants can choose from dropshipping, 3PL, and in-house fulfillment on Shopify.
Like most, you can opt for a 3PL fulfillment enterprise to ensure accurate and fast shipping. In fact, it is the best option to ensure your customers keep coming back to purchase from you.
Related blog posts:
TIP: Understand every element of fulfillment and Shipping
TIP 7: Customer Service
One of your top priorities in selling on Shopify should be to provide the best customer service.
It is a quintessential element to running successful business operations. Excellent customer service directly improves your bottom line, builds your brand reputation, helps you get more referrals, and improves customer retention.
Provide reliable customer service across different touchpoints to reduce acquisition costs and increase customer retention.
TIP: Aim to provide world-class customer service.
TIP 8: Create the Perfect Store
As an online store, you have to use compelling and attractive visuals to boost revenue and draw the attention of more customers.
Use high-quality images and intui9tive descriptions that can help you build a unique visual identity.
Adapt a proactive approach and actively participate in your own store to understand its strengths and weaknesses.
And that means paying more attention to your online store's visual elements, speed, and UI/UX. In fact, these elements will help you tap into new opportunities and scale up your online store operations.
Similarly, opt for social media and organic traffic to boost your selling efforts on your Shopify store. The more organic traffic you receive – the more leads you will be able to convert. And before you know it – you will see a significant jump in your sales.
Related blog posts:
TIP: Build a seamless and aesthetically pleasing store.
TIP 9: Implement a Returns channel
You may not be aware of it, but around 80% of shopping carts get abandoned before a customer moves forward with a sale. And that's why you have an excellent returns channel to minimize cart abandonment, boost sales recovery, and increase customer retention.
Returns will happen when you're selling online. So, provide a positive experience to online shoppers to increase their chances of returning items.
You can streamline your current returns channel through automated efforts, creating a clear return policy, and pre-printing return labels.
TIP: Implement a transparent returns channel.
The Takeaway
Whether it's order management or inventory administration, Shopify is arguably the most straightforward eCommerce solution on the market.
With these valuable Shopify tips, you can successfully start selling products on your Shopify store and drive consistent sales. With the right approach, you can turn the tide and earn more revenue than you can imagine.
To summarize we've briefly covered:
Why selling on Shopify is worth it
Tips on how to get started selling on Shopify
What next:
Additional Shopify Resources
With Shopify being one of the largest eCommerce platforms on the market means you'll never be short of resources to learn how to build a profitable eCommerce business.
Kanteneo aims to be the best Shopify blog on the market, but you may require additional resources to help you on that journey. Below we've listed a top-selling Shopify book by Veronica Jeans to help you learn how to launch a profitable business.
Author