Shopify VS WordPress: Which is Better for eCommerce in 2023?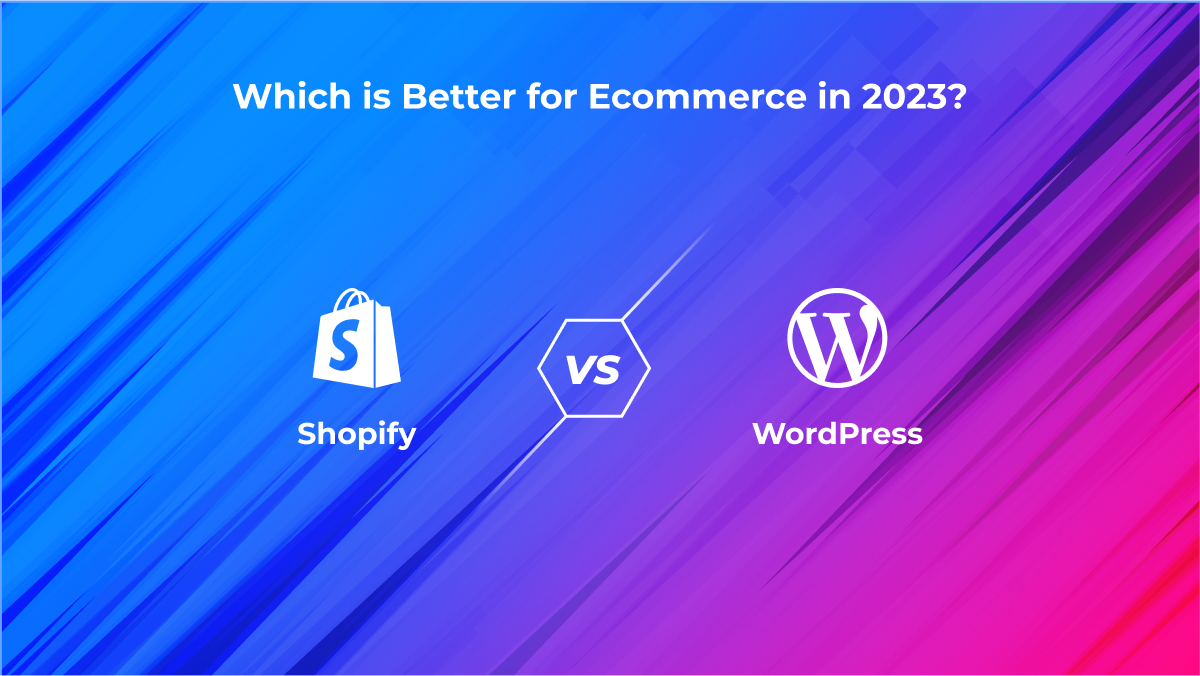 It's likely that you have evaluated the necessary equipment if you have ever thought about starting your own online business. And even though there are a number of ecommerce platforms available, Shopify and WordPress continue to command the most attention.
Although they cater to very different needs, both businesses are monarchs in the web design sector. We are available to help you choose the best choice for you: Amazon or Shopify.
Related Blog posts:
Shopify vs. WordPress: Which should you use?
These are two of the biggest and most well-liked website building platforms on the planet. And each of them provides a wealth of features and tools to aid in the creation and administration of a website. But that's kind of the issue—where do you even begin to choose between them?
As if that weren't confusing enough, Shopify and WordPress take quite different approaches: one is a hosted platform that is closed source, and the other is a self-hosted platform that is open source. They function fundamentally differently as a result. As practically every area of your internet business will be impacted by your choice, it is imperative that you select the best option for your purposes.
Amazingly, over one-third of all websites on the internet are powered by WordPress.org. On the other hand, there is Shopify, a renowned eCommerce platform which powers over 600,000 online stores and is used by both well-known individuals and significant businesses.
Shopify vs. WordPress: Overview
Let's learn about the main distinctions between Shopify and WordPress before getting into the details. Shopify is a closed-source hosted website builder and e-commerce platform, as was already described. Why does this matter? Closed source refers to a platform that is entirely coded and maintained by Shopify.
In other words, you are not required to buy, download, and host Shopify's server-side software. It is actually a software-as-a-service (SaaS) solution for which you must pay a monthly fee.
A web application called Shopify was created exclusively to help business owners create and run their own online stores. It offers a selection of templates (or "themes") that may be customized to match the unique branding needs of businesses and it enables the sale of both physical and digital goods.
You don't need any coding experience to utilise Shopify because one of its main goals is to allow users construct their own stores without any technical or design expertise. But, Shopify does let you alter the HTML and CSS of your website, so those that are proficient in coding will be able to further customise their stores.
Everything is handled on Shopify's servers since it is a "hosted" solution. As a result, you don't need to worry about purchasing web hosting or installing any software because everything you need to construct and maintain your store is supposedly provided for you "out of the box."
Shopify is a software as a service (SaaS) application, which means you must pay a monthly charge to utilise it rather than owning a copy of the programme. As Shopify is a web application, you can manage your online store from anywhere as long as you have access to the Internet and a web browser.
Take a look at the following stats:
What is WordPress?
WordPress is an open source web development platform and content management system which enables users to quickly create websites, blogs, and applications. It is the most popular content management system and powers over 33% of all websites on the Internet. It comes with a wide range of features such as themes, widgets, plugins, and extensions to enhance performance, design, and functionality.
WordPress also includes tools for website maintenance, a built-in visual editor, search engine optimization capabilities, media management solutions and more. Thanks to its user-friendly interface and powerful features, WordPress is an excellent choice for creating websites of any size or complexity.
Take a look at the following stats:
In the CMS market, WordPress holds a 60.8% market share.
WordPress allows for the daily creation of 500+ sites.
There are almost 55,000 plugins in the WordPress Plugin Directory.
22% of the top 1 million e-commerce websites in the world are powered by WooCommerce.
What's the Difference between Shopify and WordPress?
Shopify is referred to many as "website builder". Hence, in order to grasp what Shopify is, we must first comprehend what a website builder is. An online tool known as a website builder enables users with little to no technical experience to create their very own website. Customers then pay a minimal monthly charge to the website builder platform in order to maintain the availability of their site.
Shopify is only ever used to create online stores (as opposed to blogs or online resumes) because it was created particularly for ecommerce.
Shopify is recommended if:
You want to start your own internet store but lack the necessary technical competence.
You need to monitor your spending carefully.
You value simplicity and convenience.
On the other hand, WordPress is quite unique in its own way and different from Shopify. WordPress.com and WordPress.org are the two versions available.
You may easily and rapidly create your own website using WordPress.com, a blogging platform that roughly corresponds to a website builder. WordPress.org is self-hosted software that has a much greater level of technological sophistication.
We'll be comparing WordPress.org with Shopify so that you can make use of it to develop almost every form of website, which would include online retailers.
WordPress is recommended if:
You have some understanding of coding.
You have the funds available to hire a developer.
You desire ultimate control over the personalization of your website.
Shopify has all the tools you could possibly need at your disposal because it was designed to assist people in starting their own online businesses. Unlike Shopify, WordPress doesn't come with an ecommerce configuration, but you can add some great plugins to actually sell online; to turn your WordPress site into an online store, we recommend utilizing the WooCommerce plugin.
Let us now understand the difference between WordPress and Shopify on basis of their characteristics:
1, Payment Getaways
A payment gateway is required in order to facilitate transactions when selling online. The widely used payment processors are Stripe, PayPal, and Amazon Pay.
Over 100 payment gateways are effortlessly integrated with Shopify. It also has a gateway of its own, known as Shopify Payments, which streamlines the process of setting up and managing online payments.
You must configure your WooCommerce plugin's payment gateway in order to accept payments on WordPress. More than 75 payment gateways, including WooCommerce Payments, are integrated with the platform.
Both platforms offer great flexibility in this area, although WooCommerce's options might be more difficult to set up than Shopify's all-in-one solution.
2, Design and Themes
Shopify offers 64 premium themes for between $120 and $180 in addition to 8 free themes. Moreover, Theme Forest offers 1,200 Shopify themes created by independent developers.
Shopify's themes come with pre-built sales settings. These themes may be adjusted to fit any screen size because they are mobile-friendly and versatile. Also, using Shopify's theme editor is really easy. Hence, you may alter it to look exactly the way you want without needing to understand any code or technical jargon. Also, Shopify support is available 24/7 in case you have any issues.
WordPress offers more than 8,000 theme options, of which 50% have e-commerce features. To get WordPress themes to function the way you want, they often need a lot of tinkering and editing. As a result, to manage them yourself, you'll probably need to have some basic knowledge of coding or opt to hire dedicated developer.
It's also important to keep in mind that the majority of WordPress themes are created by outside developers, so if you need assistance, you'll need to contact the theme creator.
3, Plugins and Apps
Users add the capabilities they require using third-party apps on both Shopify and WordPress. Each platform has a separate app store. More than 6,000 apps are available in the Shopify App Store that you may utilise to increase the functionality of your website.
In contrast, WordPress offers more than 50,000 plugins.
Users of Shopify probably require fewer third-party apps than users of WordPress. This is true since the platform already supports e-commerce and handles the required programming, security, encryption, and technical maintenance.
Users of WordPress are more dependent on plugins to provide the functionalities they require. And if you can't code, managing many of these plugins can be challenging. Also, some plugins require technical tinkering to have them play along together because they don't function well together.
4, Customer Support
Support is crucial because e-commerce websites aren't the simplest things to create and maintain.
Luckily, Shopify offers unlimited phone, email, and chat customer support. Also, there are vast aid resources and lively forums.
WordPress is an open-source programme, thus it doesn't provide direct assistance. You must instead look for assistance on community forums, specialized websites, and YouTube. So, you'll probably need to pay for support from a specialized WordPress developer unless you're a seasoned web developer. However, the creators of the tool may be able to provide you with direct support for plugin-related problems.
5, Dropshipping
Dropshipping is the practise of making online sales of goods that are kept, packaged, and sent by a third-party vendor; this eliminates the need for you to buy inventory up front.
Several dropshipping apps, including AliExpress Dropshipping and print-on-demand dropshipping apps like Printful and Printify, are available through both Shopify and WordPress.
6, Apps for On-The-Go Management
Shopify has three apps to help you run your business while you're on the go: Shopify POS, Shopify, and Ping. The primary Shopify app gives you the ability to:
Monitor and control orders
Control collections and items
Organize marketing initiatives
Converse with clients
Make reductions or discounts
Observe retail performance
Customize the theme of your website, and more
You may manage the content of your website with WordPress' mobile app. Also, you would be able to manage your business using the WooCommerce app.
What are Cons of both Shopify and WordPress?
Consider the following cons of both Shopify and WordPress before choosing the platform:
Cons of Shopify
Shopify's blogging capabilities are constrained in contrast to WordPress. Its blogging functions are not good, and its main concentration is online shopping.
Similar to WordPress, purchasing for Shopify is not as simple as it first appears. App and plugin subscriptions add up over time, and not all themes are included in the price. Depending on the plan, additional fees of up to 2% may apply if you use third-party payment processors.
The store and all associated data are permanently deleted when an ecommerce store on Shopify is terminated. Some data can be exported by users through CSV, but the majority will be lost. This makes transition process to a new platform incredibly challenging.
Cons of WordPress
It can be bothersome how frequently and consistently WordPress has to be updated. Depending on the quantity of installed plugins, some users can anticipate updates almost daily.
As one of the world's biggest website builders worldwide, WordPress has an incredibly huge target upon the back from cybercriminals. Furthermore, because of its dependency on third-party plugins, there are additional opportunities for malicious malware to infiltrate the system.
On the surface, WordPress is free to use, and its paid editions are reasonably inexpensive. After having purchased web hosting, a theme, and the required plugins, users may be continuing to spend a lot more than predicted.
The Takeaway
For ecommerce, one cannot simply select between Shopify and WordPress because each offers advantages of their own.
It would be preferable to use WordPress for ecommerce if you already have a WordPress website ready to go. All you have to do to launch your online store as a component of your current website is install WooCommerce. Also, you will have to do a lot less work.
For individuals who don't yet have a website and would want a dedicated and hands-off solution, Shopify is better. Also, it has a tonne of cutting-edge features that will greatly simplify your life.
To summarize we've briefly covered:
Understanding the difference between Shopify and WordPress
What next:
Additional Shopify Resources
With Shopify being one of the largest eCommerce platforms on the market means you'll never be short of resources to learn how to build a profitable eCommerce business.
Kanteneo aims to be the best Shopify blog on the market, but you may require additional resources to help you on that journey. Below we've listed a top-selling Shopify book by Veronica Jeans to help you learn how to launch a profitable business.
Author