Shopify and Spotify Help Artists Drive Sales to Their Shopify Store
Artists now have the power to sell merch through Spotify.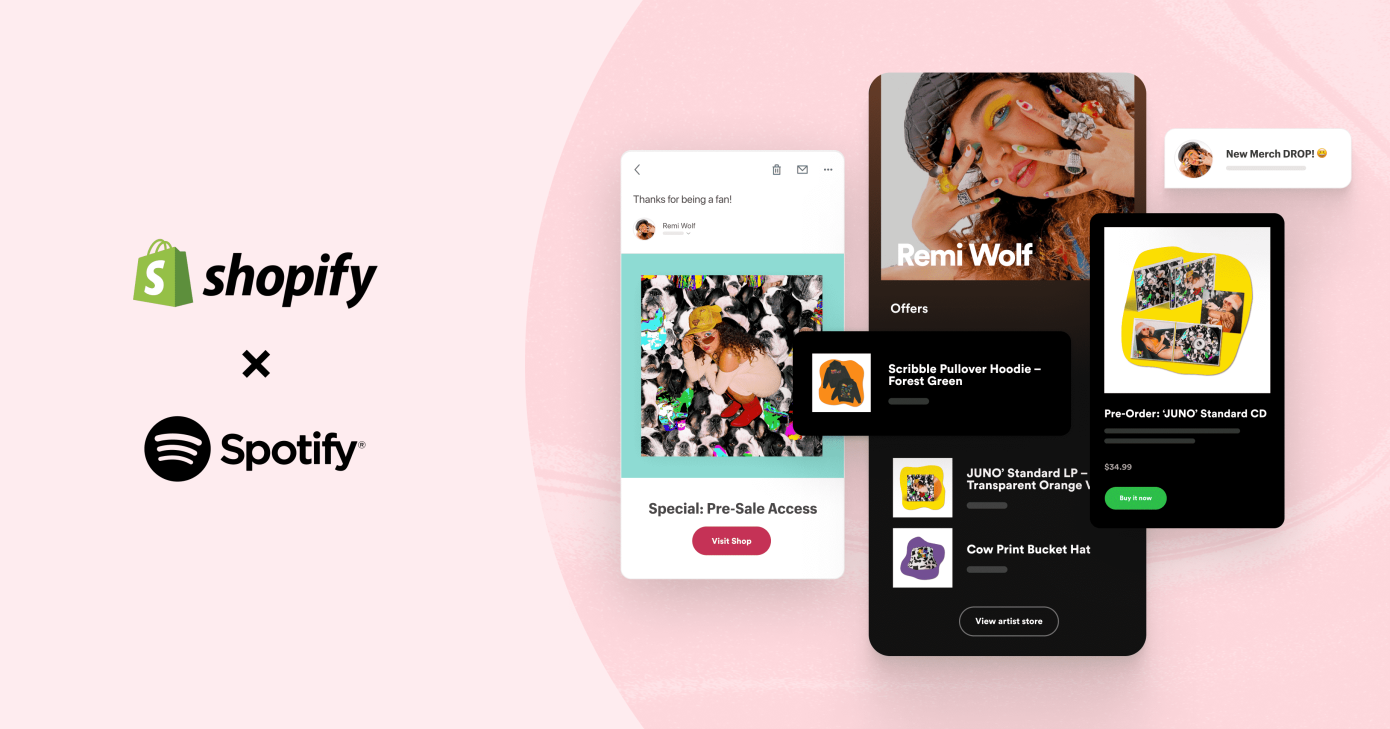 Image source: Shopify
Shopify announces partnership with music streaming giant, Spotify. The new partnership allows Spotify artists to connect to their online store, allowing artists to sell products through the spotify app.
With a few clicks of a button artists will have the option to sync all shopify products, or collections based on top selling, most popular, or custom.
"For many fans, Spotify is the primary way they interact with an artist's music, and we are excited to give artists a new way to capitalize on that moment," said Camille Hearst, Head of Spotify for Artists. "We want to provide artists with as many resources as possible to help turn listeners into fans, fans into superfans and, ultimately, help artists earn more. The integration of Shopify's powerful backend for powering commerce presents a significant step forward in our efforts to help artists maximize additional revenue streams and give them agency over their careers."
Amir Kabbara, director of product, payments and channels has explained in a press release how the partnership helps artists create additionial sales channels to increase revenue.
With technology evolving at a rapid rate, the demand has never been higher to create streamlined process's, with multiple touchpoints for an easier shopping experience, and most importantly, helping artists leverage every aveneue to succeed.
With any new integration and/or innovation, visibility is a key ingredient to succeed. For artists creating phenominal music may not be enough, this is where blog for business will be your saving grace. Create content that is intentful, educational, and informative. Persist for 6 - 12 months to increase listeners, sales, and subscribers.
Improve Shopify Sales with Personalized Video
If you're ready to build an epic brand, join us today!
With Kanteneo you can create personalized videos delivered straight to your customer's inbox. Promote products, increase your revenue, and boost your traffic through personalized videos.
Save time and money! you no longer need to create videos on separate platforms. You can use our Shopify video app to streamline your personalized video customer retention strategy. Sign up for free beta access and start sending automated & personalized videos when we launch!
Check out The Video!