How to Increase Traffic to Your Shopify Store
It's fair to say you're here because you feel you've tried every tactic in the book to generate website traffic! Fear not, every Shopify store owner, blogger, or general website owner goes through the same painstaking process to figure out how to generate website traffic.
Whilst getting traffic may seem an uphill battle, you'll be pleased to know, only 5 key elements play a vital role:
Quality Content
Consistency
Patience
SEO
Backlinks
With the above in mind, the process for getting organic traffic takes between 3 and 6 months.
But Wait! You want results now! Below you'll find an extensive list to get traffic fast. Fast? Well, within 3 months - unless it's paid traffic!.
Following the below will yield great results, but you need to be consistent and patient.
1, Improve Site SEO
The dreaded SEO, many fear SEO, but it doesn't have to be feared, at its bare minimum, it's very easy to digest.
1.1, Keywords - Low-Hanging Fruit
To rank faster, it's quite essential to target low competitive keywords.
For example, you're running a lingerie store, and you have a particular product page that is not ranking too well. Let's say, "Bra and Panty Set".
In most cases, this is either due to "Bra and Panty Set" being too competitive, or the product page having poor authority.
Finding low competitive keywords using free tools:

Google Keyword Planner
Whilst the keyword "Bra and Panty Set" has higher monthly searches, it's also fiercely competitive, simply targeting the keyword - "affordable bra and panty set" without, or low competition will see an increase in traffic in time.
With anything "free" comes the challenge of deep analytics and reporting. How do you truly know what your competitors are ranking for? Unfortunately, this is where you may need to part with some hard-earned cash. To be the best you have to invest emotionally, physically, and financially.
Benefits of Semrush:
Deep keyword research
CCI: Comparative Competitive Intelligence
Strategize with reporting and analytics
Find new keywords based on primary keywords
Track all keyword rankings
Track competitors competition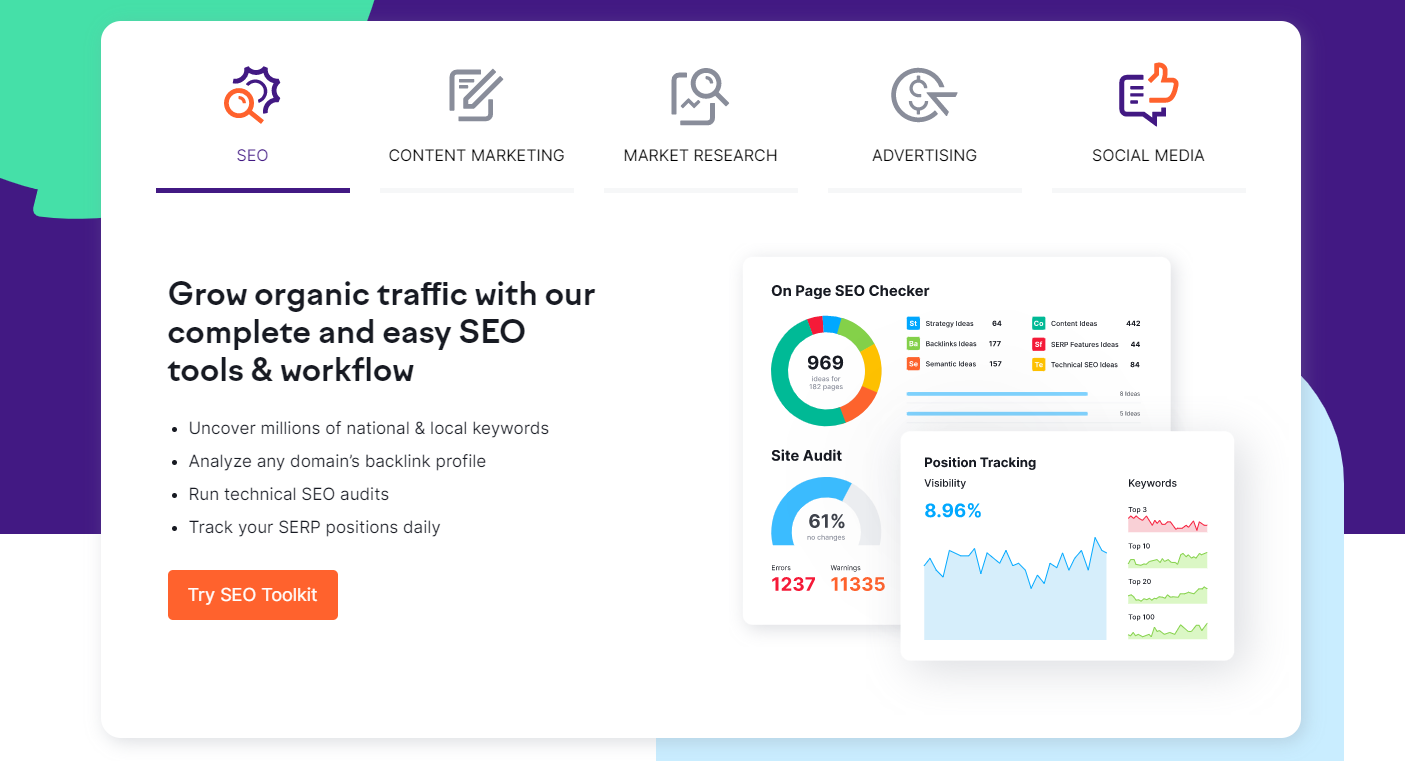 Semrush Keyword Research
1.2, Page URL - Address bar
The page URL improves the user experience, gives search engines an idea of what the page may include.
Whilst does not play a major role in rankings, it certainly is considered.
An example: https://lingerie-store.com/product/affordable-bra-and-panty-set
1.3, Page Meta Title
Page Meta Title is still considered one of the most important factors when performing SEO. This tells search engines how to index the page, what the page is about, and more importantly tells the user what the page is about.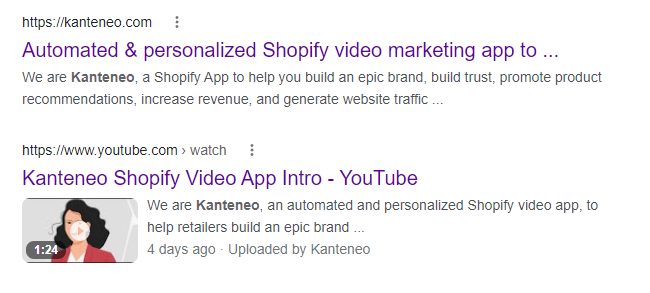 A perfect title describes the intent and is enticing, in a few words. The title should give the reader an idea that when they leave the page they have learned something new.

Adding Click Worthy Meta Titles that include keywords will most certainly increase traffic.
1.4, Page Title - H1 Tag
Similar to page meta titles, this tells the user what the page is about, and tells the search engine crawlers what the page is about. In most cases, the URL, Page Meta Title, and Page Title should match with the relevant keywords.
Take this page, for example, all titles align accordingly to give clear and concise descriptors to both users and search engines alike.
As you've guessed, this will also improve traffic by pleasing the Google gods.
1.5, Site Speed
Whilst still relatively new, site speed is regarded as extremely important. Why? Well, would you wait for a page to load?
You've found a product page or blog post you're keen to read, but the page is taking far too long to load, in most cases, you'll click the back button and navigate to a different site.
How to fix:
Compress Images
Reduce Script Sizes, or Remove Completely
Uninstall Unwanted Plugins
Restructure product/blog pages to reduce weight
Search Engine algorithms now penalize extremely slow sites - affecting ranking, and ultimately traffic.
Using Neil Patel's Ubersuggest (For Free) you can now test the speed of a site from a search engine perspective.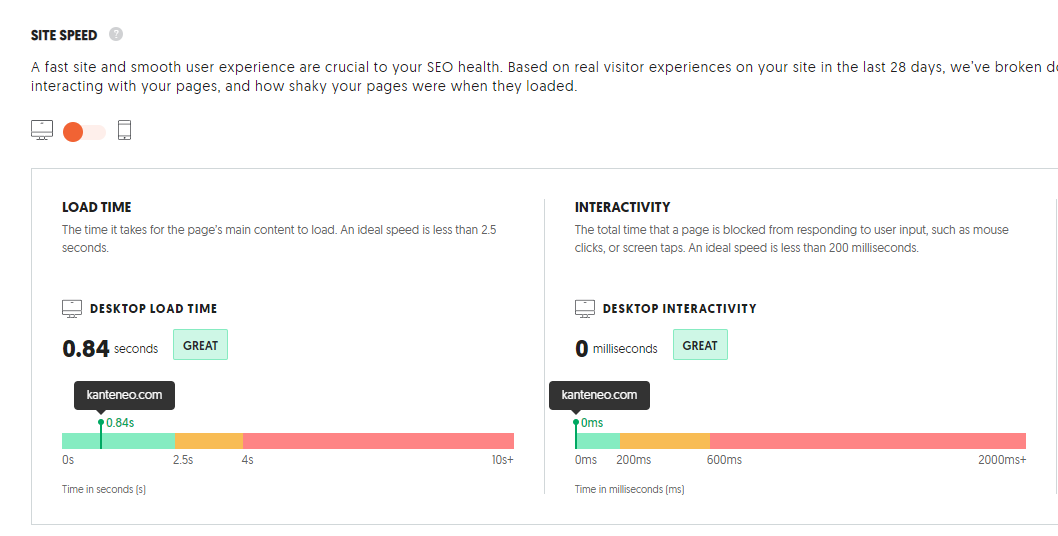 Neil Patels Ubersuggest
1.6, Alt tags On Images
Easily one of the most ignored! Alt tags should be included on every image.
Why?
Accessibility - Allows users with screen readers to understand the context of the image
Search Engines read the value of the alt tag to determine how to describe the image and display it correctly in search results
A simple test on a desktop would be to hover over an image to see the alt text appear.
For a device tap the image, or press and hold for 2-4 seconds - depending on the operating system.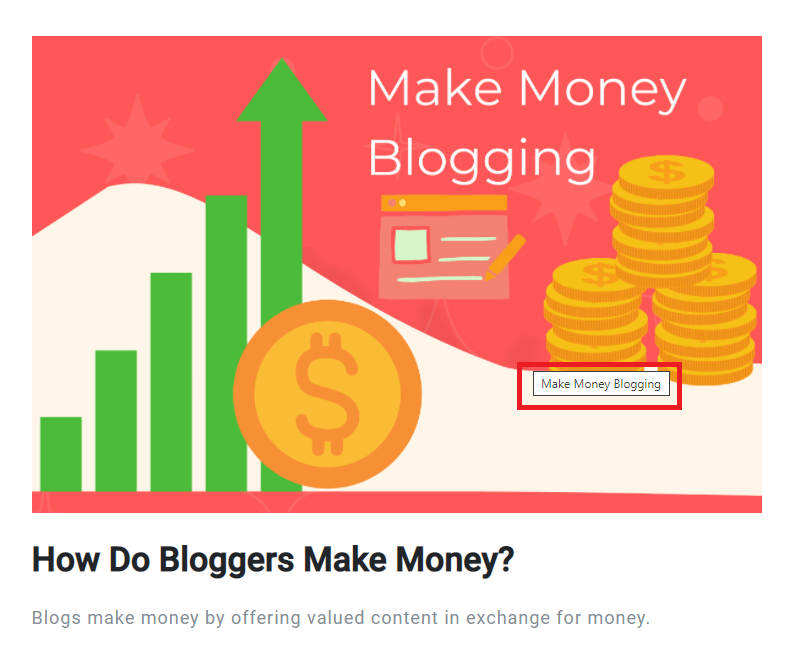 1.7, Internal Linking
Internal linking is your site structure and roadmap. Internal Linking tells search engines how your online store or blog is structured. It also guides users to the next available product or next blog post in a series.
Product page example would be a product page displaying also bought products, and recommended products.
A blog post example would be, how this page links to How to blog for business to increase sales
Example Image: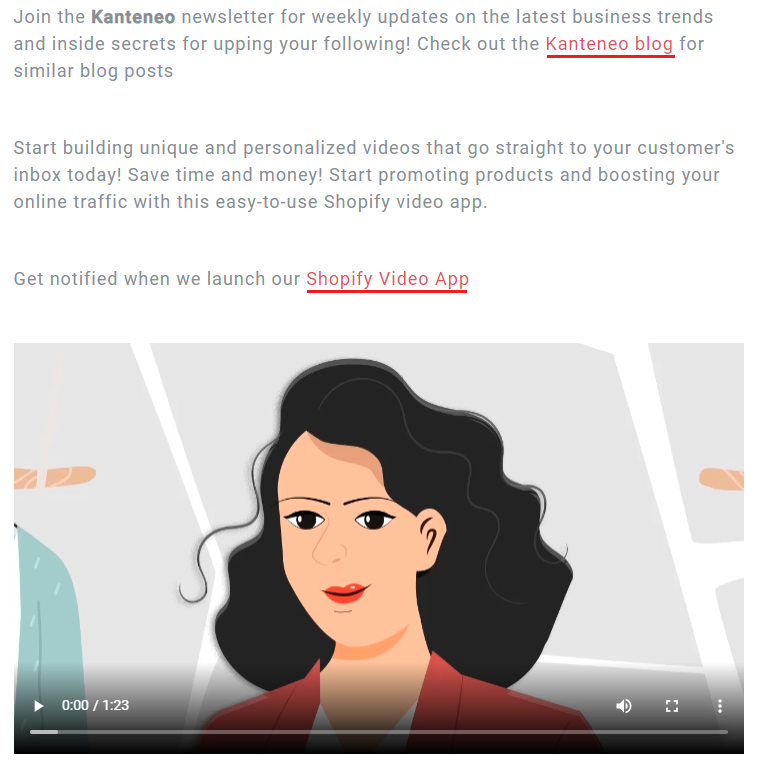 1.8, Responsive Layout - Device First
As the tech world is entering into a device-first era, and the use of the desktop is becoming less, and less. Online stores, blogs, and generally any website that provides a service, or information should be device first.
Meaning, all content should be legible/readable on a smaller device. Search engines now read the structure and visibility of a website from a device perspective.
Not conforming to this will see rankings plummet, and potentially penalized.
An example of a device first layout: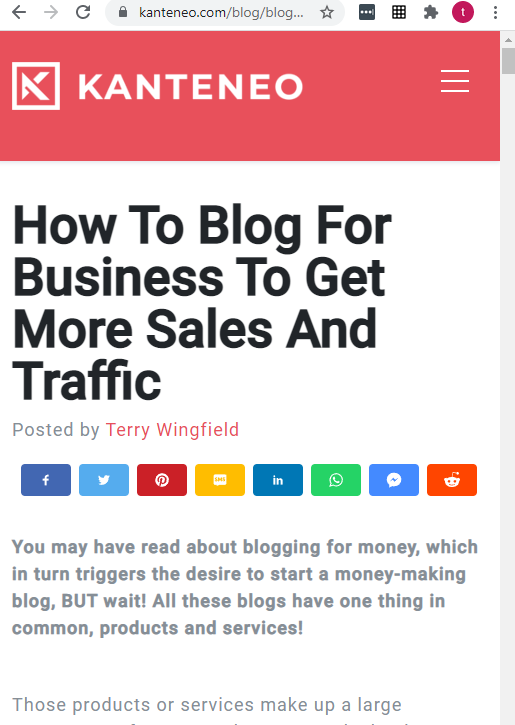 A test from a desktop would be to simply resize the browser window and observe how legible the content is.
When on a device, open the website and determine whether you can read and digest the content.
2, Social Media Campaign
2.1, Research what your competitors are doing
Don't just post content for the sake of "content"! Understand how your competitors are engaging with their audiences, from likes to comments, and finally to shares.
The more you observe, the more you learn.
Observe:
Likes
Comments
Shares
Visuals
Funnels
Researching your competitors will allow you to understand what social content is being liked, shared, and most importantly commented on.
Measuring comments details how captivating the content is, and how engaged the users are - use this to your advantage.
Under no circumstance should you directly copy the content, this will only hurt your brand in the future.
Competitor research has always been a challenge, it's time-consuming, and boring when done manually. Theirs always a tool to make life easier:
Harness the power of Sprout Social for in-depth competitor analysis.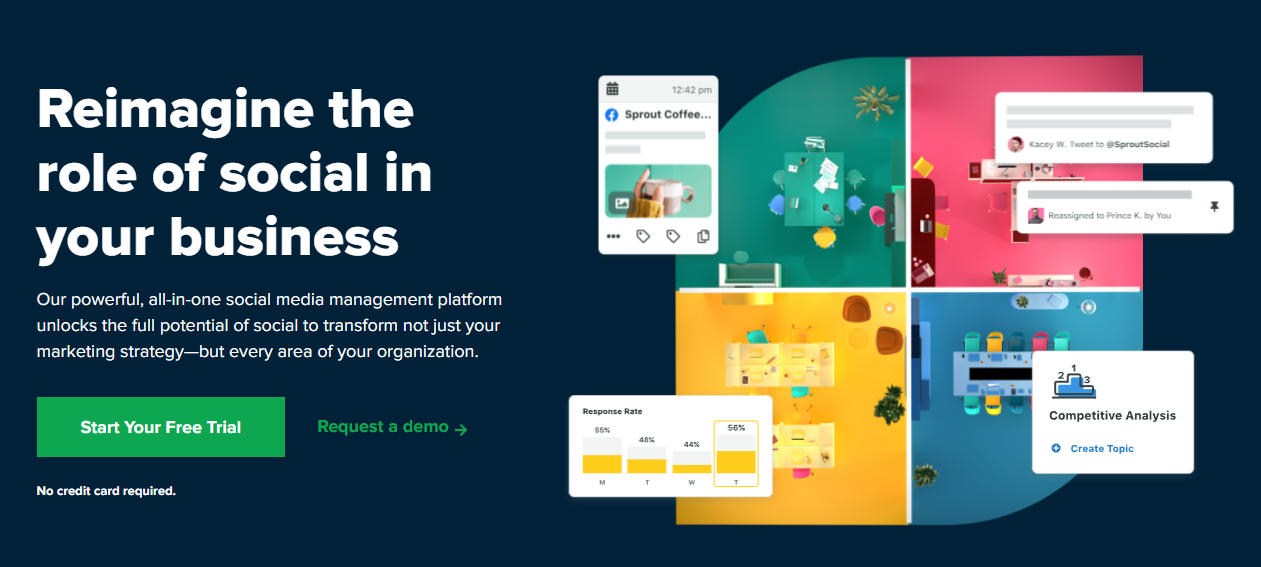 Sprout Social
2.2, Plan your day/week
Without a doubt, the most important! Ever heard of the military adage, 7 P's?
Prior Proper Preparation Prevents Piss Poor Performance.
Don't be the blogger or Shopify store owner that wakes up in the morning and has no idea what to do next, this will simply hurt your progression, self-esteem, and motivation.
Benefits of planning:
Structured workday
Micro goals
Sense of achievement
Micro results
Increased confidence and well-being
Work/life balance
Let that sink in... Planning is extremely important, this will dictate your success. Many tools exist, but one of Kanteneo's favorites is Monday.com
Never miss a deadline again, never start the day lost.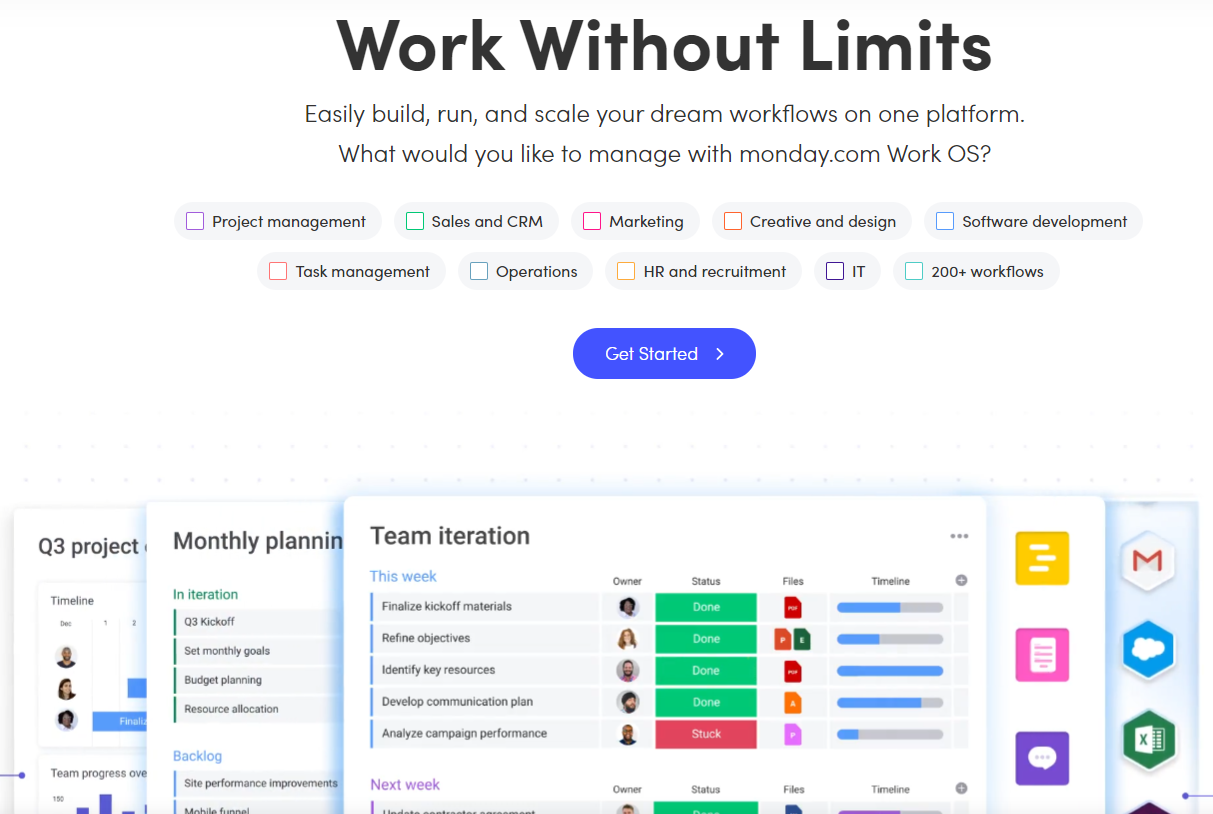 Monday.com
2.3, Create engaging visuals
Poor visuals simply suck, you'll never reap the benefits if you don't invest in quality content.
"When asking users what visual elements they value on a company website, 40% of consumers said images, 39% said color, and 21% said video. (Top Design Firms, 2021)" - Source HubSpot
Whilst a social media post is not a website, the same logic applies to the content/image of a social media post.
In today's age, there is no excuse to create poor images, especially with tools like Canva. Canva offers a free version and is probably the easiest tool to use on the market.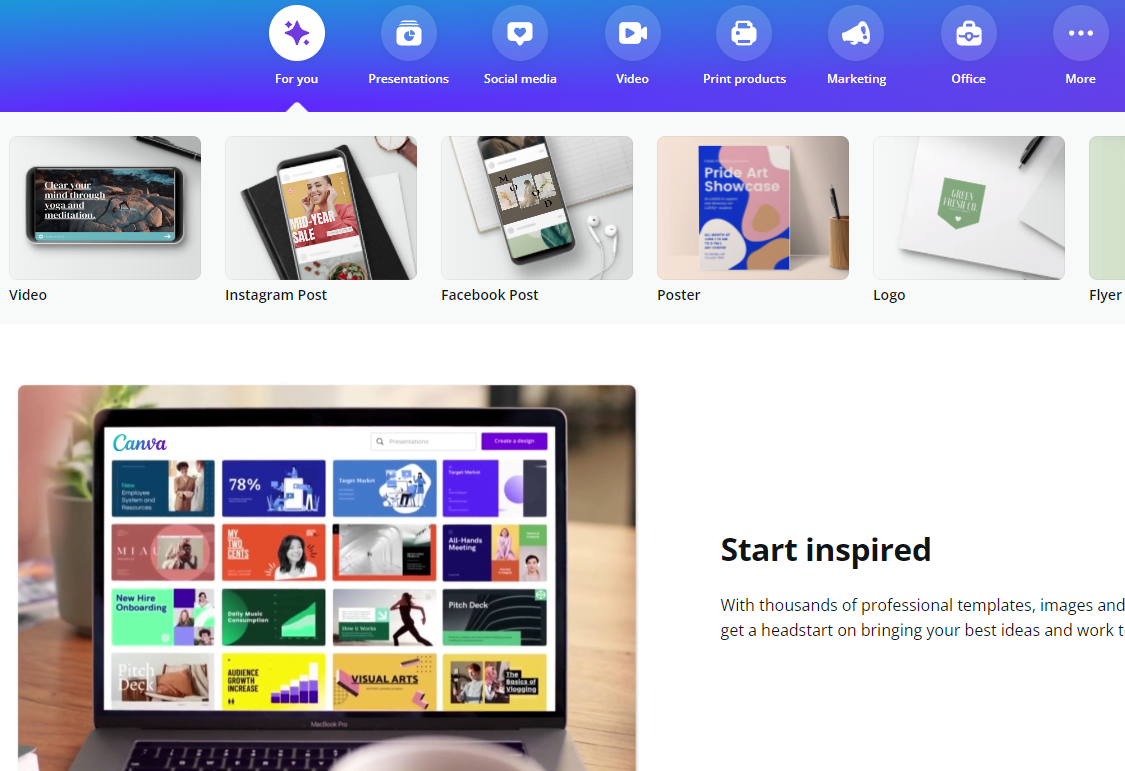 Canva
2.4, Create click-worthy titles
I don't think this takes much explaining and similar to page meta titles, the goal is to entice the user to engage with the social media post.
What would you click on in the list below?
Blog For Business
How to Blog For Business To Get More Sales And Traffic
A terrible example of a social media post - poor intent, poor direction, and poor execution!?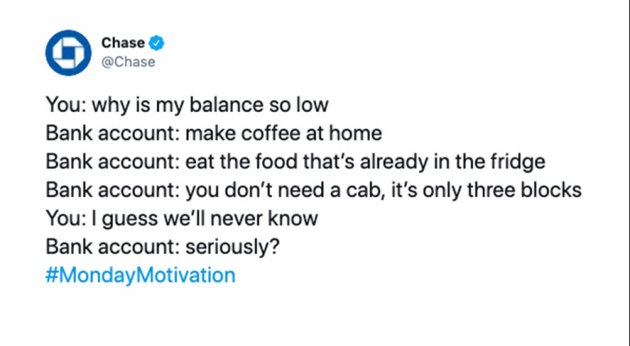 Source: HubSpot
A good example with clear direction, quality imagery, and a perfect title.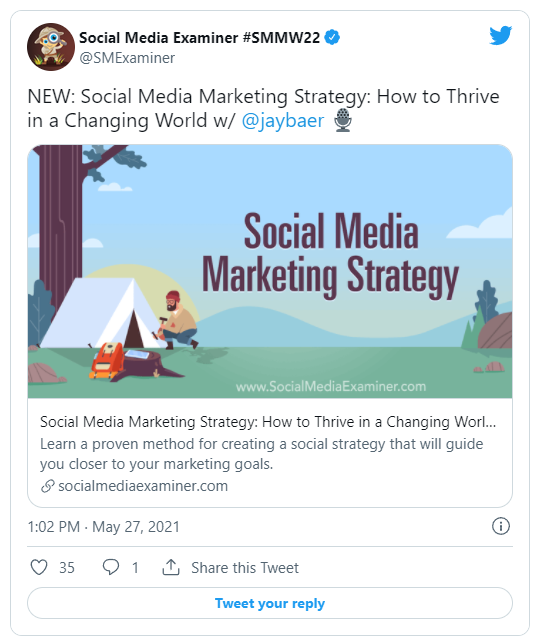 2.5, Use hashtags to cast a wider net
Using hashtags allows you to expand into information groups for users to be able to quickly filter content they want to see.
Why use Hashtags:
Hashtags allow users to search for content "they" want to see
All social media platforms contain the same functionality
The ability to create brandable hashtags #YourService
Can help with brand positioning and awareness
Overtime will increase traffic
2.6, Schedule content at the right time
Does this need much explaining? Do you post content at 3 am?
Most social media platforms are fly by content, meaning when you post it won't be indexed, and the visibility soon fades away.
Know your audience! If your audience works 9-5, don't post at 10 am! The best time to post is typically around 13:00 - 13:30 and 19:00 - 20:00
Running a business is not easy, with many areas to cover its important to find tools to help take the burden of being a marketer, sales, technologist, and administrator.
Use tailwind to help schedule Instagram and Pinterest posts - Tailwind offers a free trial!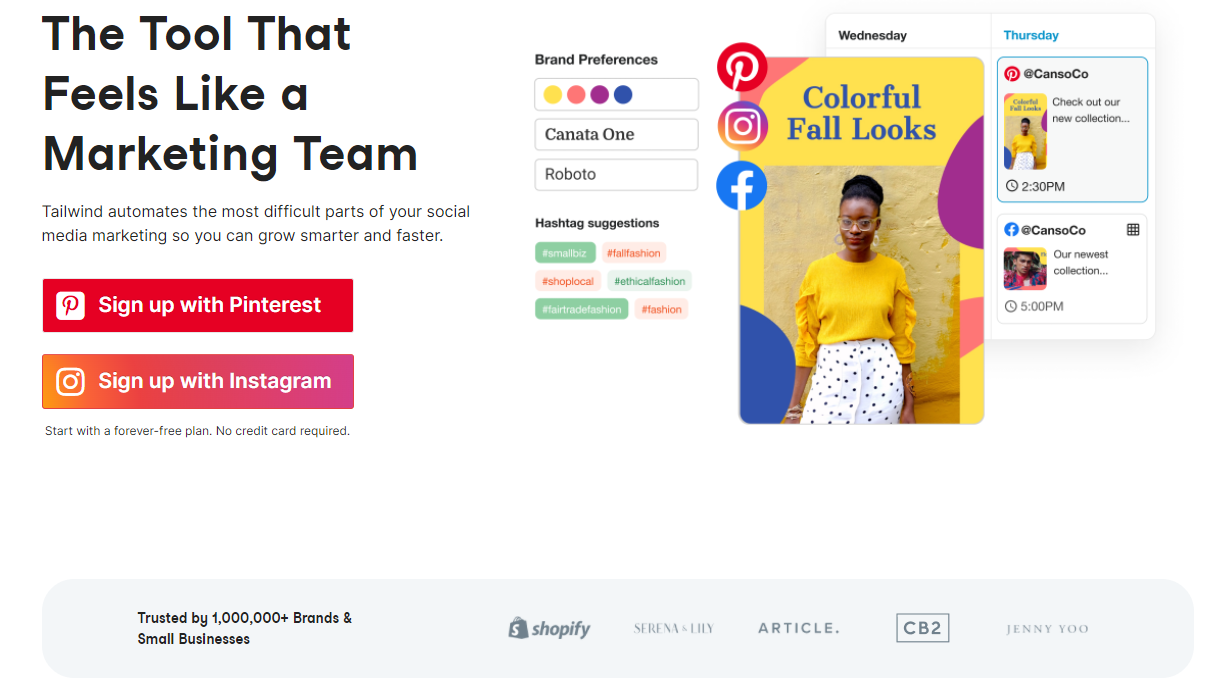 Tailwind
Posting at the right time will increase traffic.
2.7, Engage with your audience
This is one of those that will come back to bite you in the bottom if you do not engage. Engaging with your audience instills trust, and trust converts to money.
Always reply to comments, especially if you're being asked a question - unless it's spam of course.
Why it's important to engage:
Boosts sales and traffic
Keeps the social signals alive
Builds a brand
Increases brand positioning
Builds connections
Increases brand awareness
Builds trust
Establishes authority
3, Authoritative Content
You need to become an authority in your field/niche to truly create authoritative content.
Creating authoritative and quality content will always be the number one traffic driver, and will most certainly help you rank higher than your competition.
How to create authoritative content:
Become an expert in what you're selling, or writing about
Answer questions in the form of a blog post
Write in-depth articles to cover all bases
Network with other industry experts
To find further details, head over to our blog for business post.
4, Create Product Videos
Not creating product videos? You're missing out on a channel that is going through rapid growth.
Creating product videos can increase traffic by 22%.
"According to our survey, 78% of users got more traffic to their website after using videos. Besides, 71% of them claimed that thanks to videos the average time on their website has increased. 69% of users generated more leads with the help of video content, and 54% of users increased their sales." - Source RenderForest
How do you create those video's you ask:
5, Create Video How-To Content
Similar to product videos, but this time we're conforming to "intent". As the landscape changes for search, whether that be Google, Bing, or Youtube, the idea is to provide value to the user.
All search engines want to display content that educates and informs its users. So, if you have a complex product, create a "how-to" video.
Why?
Establishes authority
Generates content
Builds trust
Increases traffic
Whilst not strictly "How-To", our very own animated video includes marketing and a very simple "how to build an epic brand, increase revenue, and build loyalty through the power of personalized video."
Animated videos are an outstanding affordable option, outside of recruiting models, and purchasing video equipment.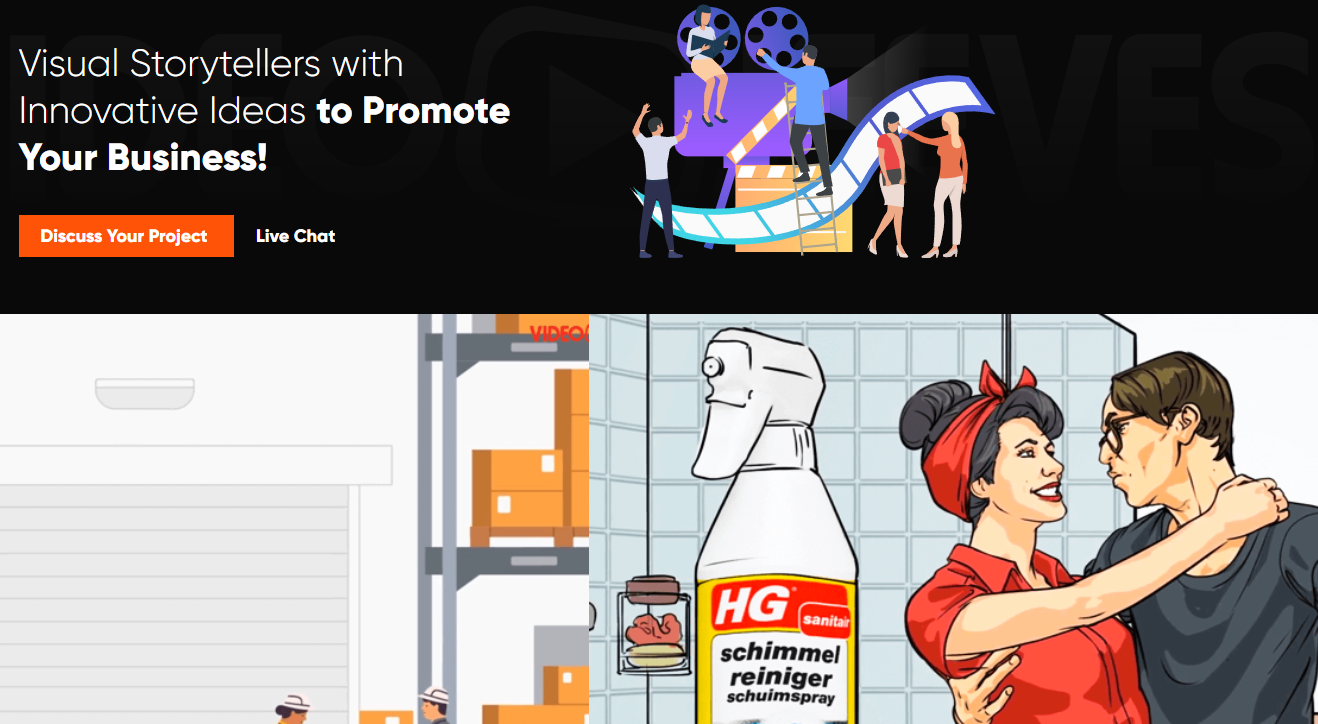 Video Jeeves
6, Build Backlinks To Product Pages And Blog Posts
Have you noticed that your blog posts and product pages don't appear to be ranked or getting any traffic?
Well, this is primarily due to a lack of informative content. When we hear the term "backlink", we instantly subscribe to the idea that we need to create a backlink to the homepage. Whilst this will help with the brand, in most cases, this is not creating a diverse backlink range and we're most certainly not delivering high converting content.
You need to drive users to where you want the CTA to be triggered.
Quality backlinks are the holy grail to increasing authority and traffic. Assuming you've adhered to the strategy above (1.1 Keywords - Low-Hanging Fruit), using low competition keywords and backlinks could see you ranking on the first page of Google in as little as a month (assuming you're not in the Google Sandbox).
How to get direct backlinks:
Affiliate Marketing
Ad sponsors
Product reviews
Connect with bloggers
Yes, it takes time but there are alternatives, and most would use link-building outreach services.
We're not talking about cheap backlinks which "goes" against Googles guidelines, but rather legitimate backlinks in the form of guest-posting
Please note that you should not use link building services for all your link building needs and is primarily best used for initial link juice, and nothing more.
The Hoth, Kanteneo's preferred link building by guest posting.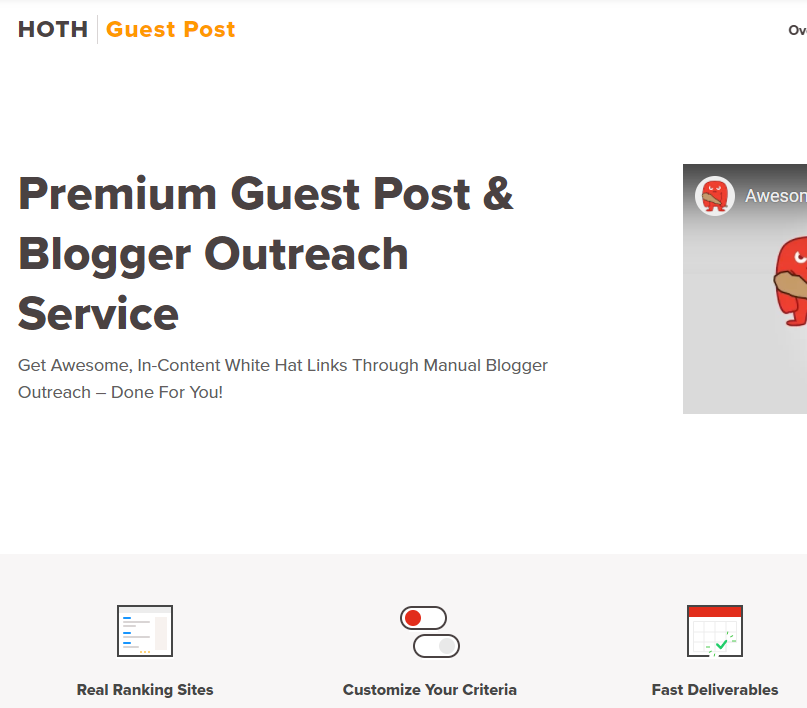 The Hoth
If you are averse to using a paid-for service, not to worry we've created a blog post on: how to get easy backlinks.
7, Run Paid Ads
Our least favorite, but in no doubt, it works - Simply pay for traffic!
But! you could be getting the wrong traffic, why would you want traffic that's looking for a lawnmower, when you are selling lingerie?
Each ad platform has an intuitive interface to help guide you through ad creation, so it's important to set the relevant keywords and audiences on each platform.
Top Ad Platforms:
Google Ads
Bing Ads
Facebook/Instagram Ads
Twitter Ads
Pinterest Ads
LinkedIn Ads
Social Nucleus (paid service)
If you are struggling with ads check out social nucleus. Social Nucleus based in Manchester, UK, and Miami, USA is helping retailers increase revenue to phenomenal levels.
Fear, not bloggers, if you do not have a Shopify store social nucleus will be happy to talk through your goals and requirements.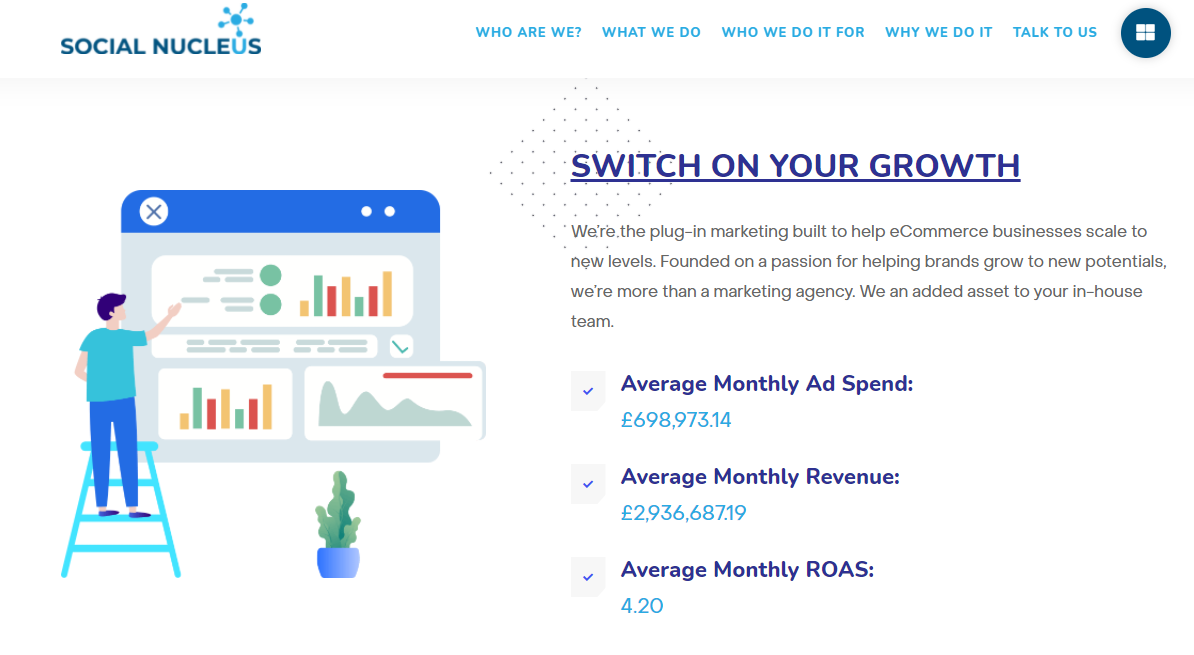 Social Nucleus
8, Run A Promotion
Running promotions is one of the most favored approaches to getting more traffic, and the most successful businesses understand cost-effective strategies to increase traffic, boost customer retention, and increase brand awareness
Sales promotions have been running for well over 6 decades, and regardless of business size, there's at least one promotion to suit beginners.
Types of promotions:
Google business listing
Free content or product
Buy one, get one free
Discounts
Cashback
Loyalty points
Top Rated Loyalty and Referrals program - Yotpo on Shopify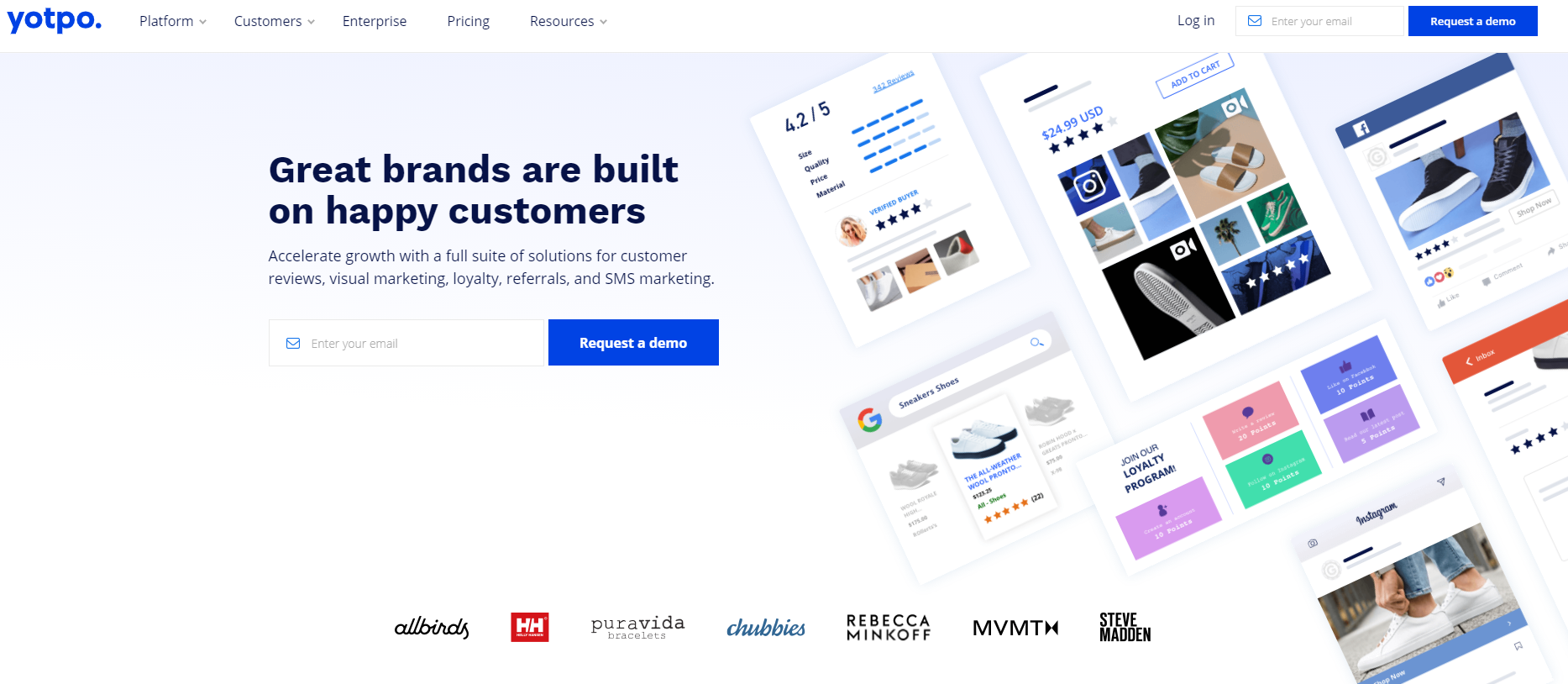 Yotpo on Shopify
9, Influencer Marketing
A paid tactic like running ads but as time moves on, most store owners and bloggers are leveraging the power of influencers.
Yet, a debate on how we see high profile influencers, influencer marketing is truly a tactic that can bring amazing results, from traffic to sales, to brand positioning, and most certainly to propel any business to be in line with the big dogs.
Like any service, caution must be at the forefront when making decisions, as influencer marketing has seen an uprise in scammers - Individuals purchasing likes, shares, comments, and followers to appear popular.
Benefits of using influencers:
Increased traffic
More sales
Backlinks
More social followers
Finding an influencer can be tough, but slightly easier than it was a few years ago, with new businesses being launched each year to filter out scammers.
Influence.co - Kanteneo's preferred platform.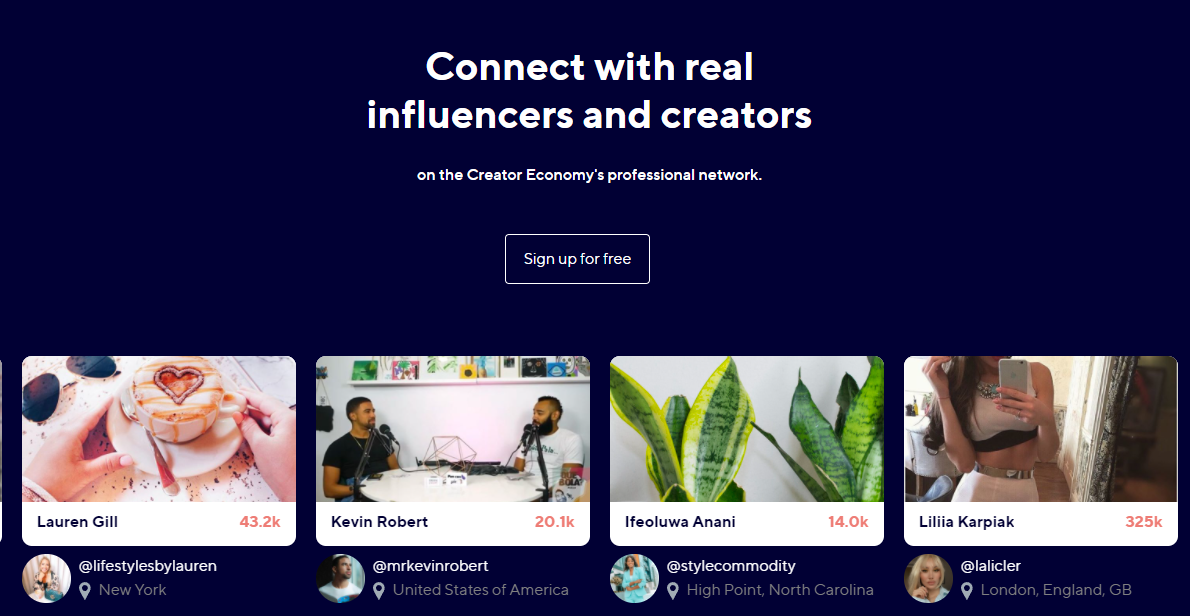 Influence.co
10, Guest Post
It seems many fear the idea of generating content for another blog but don't let that distract you from your goal.
In the world of content, authority is a key element to an explosion in traffic and sales. However, submitting guest posts to low authority sites with minimal traffic may build a backlink, but it will certainly not lead to increased traffic in a short time frame.
When searching for guest posting opportunities always keep in mind:
Domain authority
Content quality
Engaging audiences
Searching for guest posting opportunities can be time-consuming, but it's not difficult, Google the below:
"Industry" submit guest post
"Industry" submit article
"Industry" guest blog
"Industry" Write for us
To make life a little easier below is a collection of resources to help with finding guest posting opportunities:
11, Run Email Campaign
Email lists! The money maker - heard of "money is in the list"? Well, it's true, especially if you've spent the time to nurture the list and provide real value.
Email marketing seems to be one of those techniques that new store owners and bloggers just simply ignore. It's crazy! but that's largely to do with the lack of knowledge.
Benefits of email marketing?
Increase traffic
Make Money!
Communicate with your audience
Extremely affordable
Option to personalize each email
Email widely used
"The global e-mail marketing market was valued at $7.5 billion in 2020 and is projected to increase to $17.9 billion by 2027. (Statista, 2021) - Source HubSpot
Utilizing ConverterKit is the ideal tool to build lists on segments, trigger dynamic flows, and capture emails at the right time.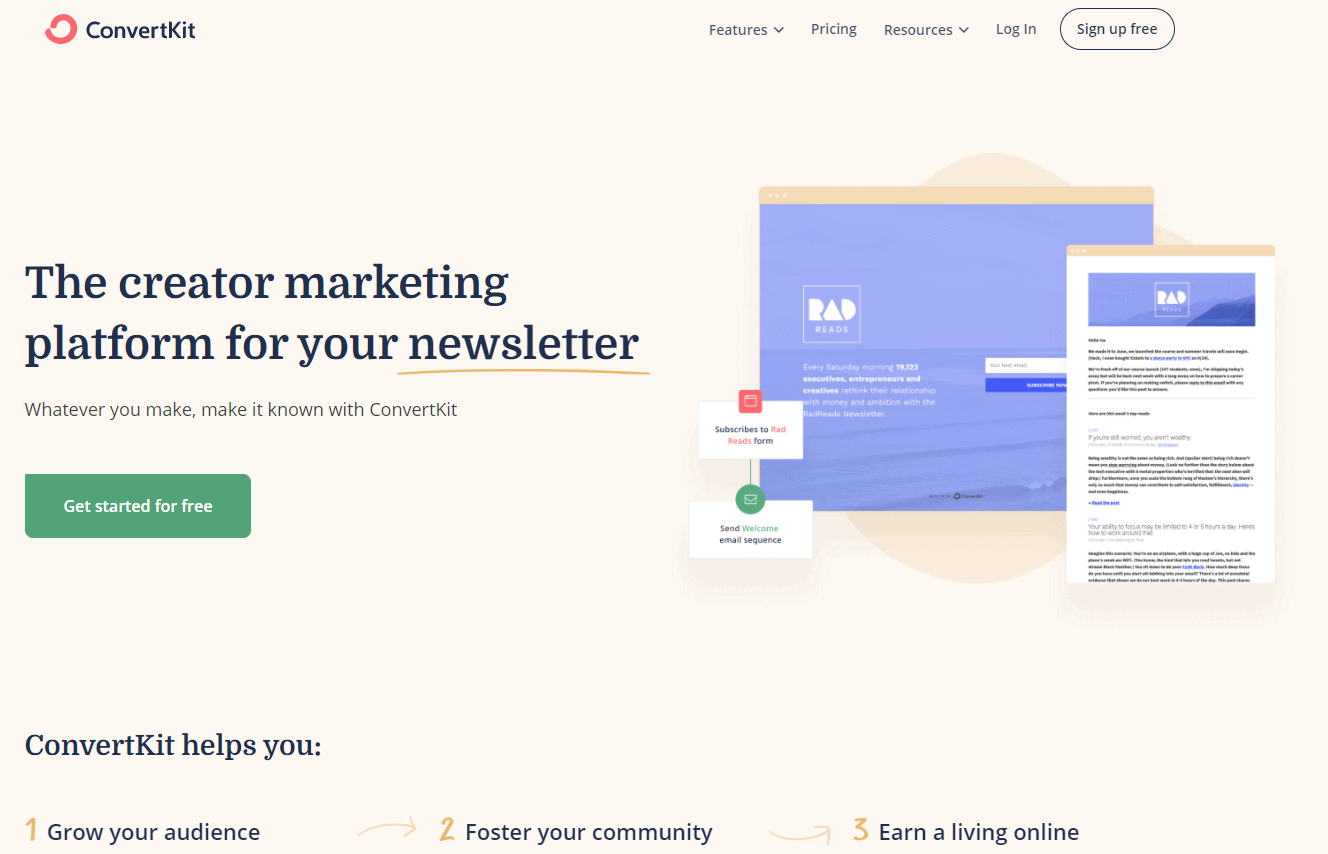 ConvertKit
12, Repurpose Blog Content Into Podcasts And Videos
Content, content, content, and more content
Some bloggers say content has a lifespan, we disagree! Quality blog posts, videos, and podcasts of the evergreen nature simply last indefinitely.
If you create a blog post on "How to measure cup size". Do you see that with a short life span?
Content repurposing is a technique to take an existing piece of content to reformat and to publish to a new channel, typically Videos and Podcasts.
Let's take our "How to measure cup size" example, this would be as simple as creating a video with a live model on how to measure cup size, this could also be explained in a podcast to talk through the technique.
The benefits:
Increased visibility
Multiple brand channels
Increased traffic
Establishes authority
More content to post on social media
MarTech reports 555,000 podcasts, with 18.5 million episodes, and in 100 languages. Podcasts are most popular when traveling, on lunch, and in the evenings.
Repurposing content into YouTube videos has never been more important, according to Statista YouTube has 2.3 billion users worldwide, and almost 5 billion videos are watched each day!
Repurposing content will help increase traffic.
13, Ask Family & Friends To Share Content
Nice and easy one, but what we're looking for is the range or rather content visibility.
Each time content is viewed, liked, or shared the social media platform triggers an algorithm to start the authority visibility process.
Direct traffic can most certainly come from family and friends, but they are less likely to engage with a customer mindset.
We want platforms to start seeing content as a reputable source, which in turn broadens who the content is shown to.
Ask family & friends to start sharing all content released!
14, Answer Related Questions On Quora, Facebook Groups, And LinkedIn Groups
You may see this as another laborious task, but this in itself can help you grow exponentially.
It's all about authority and providing a reputable source of information. How? Well, how often do you Google "How to...", "What is...", "Why does.."? When finding content, do you click through to dig a little further?
With Quora, in particular, you'll be able to sign up and create a bio page - a link back to your site. When answering questions in-depth it can lead to a Quora user clicking through to your profile page, which in turn may lead to traffic.
All of the above also applies to Facebook Groups and LinkedIn Groups. Establishing authority and creating bio/business pages leads to curiosity, which in turn equates to traffic.
By no means an easy task, you need to produce outstanding answers and back up claims with surveys and statistics - unless of course, it's a "How-to" answer.
A simple explanation would be the "How to measure cup size" blog post, use this to answer related questions by repurposing the content.
Rinse and repeat for 3 months and you will most certainly start to see an increase in traffic.
Resources to help create a Quora account:
The Takeaway
Whilst a comprehensive blog post, we've learned that to run a business from a technical point of view, is extremely challenging, it takes passion, commitment, consistency, patience, and financial investment.
It's virtually impossible to start a business without investment. Don't fall prey to fake gurus.
To summarize:
Perform basic SEO to ensure the site is optimal
Find low-hanging fruit keywords
Create outstanding blog posts and social media posts
Engage on social media
Build backlinks
Diversify by repurposing content
Don't give up!
Be open to using tools to alleviate pressure
What next:
Author