15+ Dropshipping Mistakes To Avoid
Dropshipping, the gateway to the promised land, financial freedom, and a passive income stream, so you've heard, but like any business model, mistakes can force any online business to shut down - Stay ahead by avoiding the most common dropshipping mistakes.
To note, dropshipping is no different from any other online business, it takes sheer determination and like any other business, it requires much more than just creating an online store.
Critical elements to build a successful online business in a solo entrepreneur world:
Consistency
Patience
Providing Value
Marketing Skills
SEO Skills
Developing a USP
Development Skills
Design Skills
Brand skills
Business and Financial Acumen
To succeed, know your weaknesses and invest in outsourcing, or find experienced help.
Before moving on to the most common dropshipping mistakes, let's recap on, The advantages, and disadvantages.
Related blog posts:
The Disadvantages
Dropshipping is a bad idea for the vast majority, due to dropshipping entrepreneurs simply not understanding the importance of marketing, customer retention, shipping, and product sourcing.
It's estimated that a staggering 90% of dropshippers fail within the first 120 days. But why? Well, lack of knowledge! Due to a surge in fake gurus promoting a life of luxury, and a semi-passive income - most dropshipping entrepreneurs jump in completely blind without any knowledge.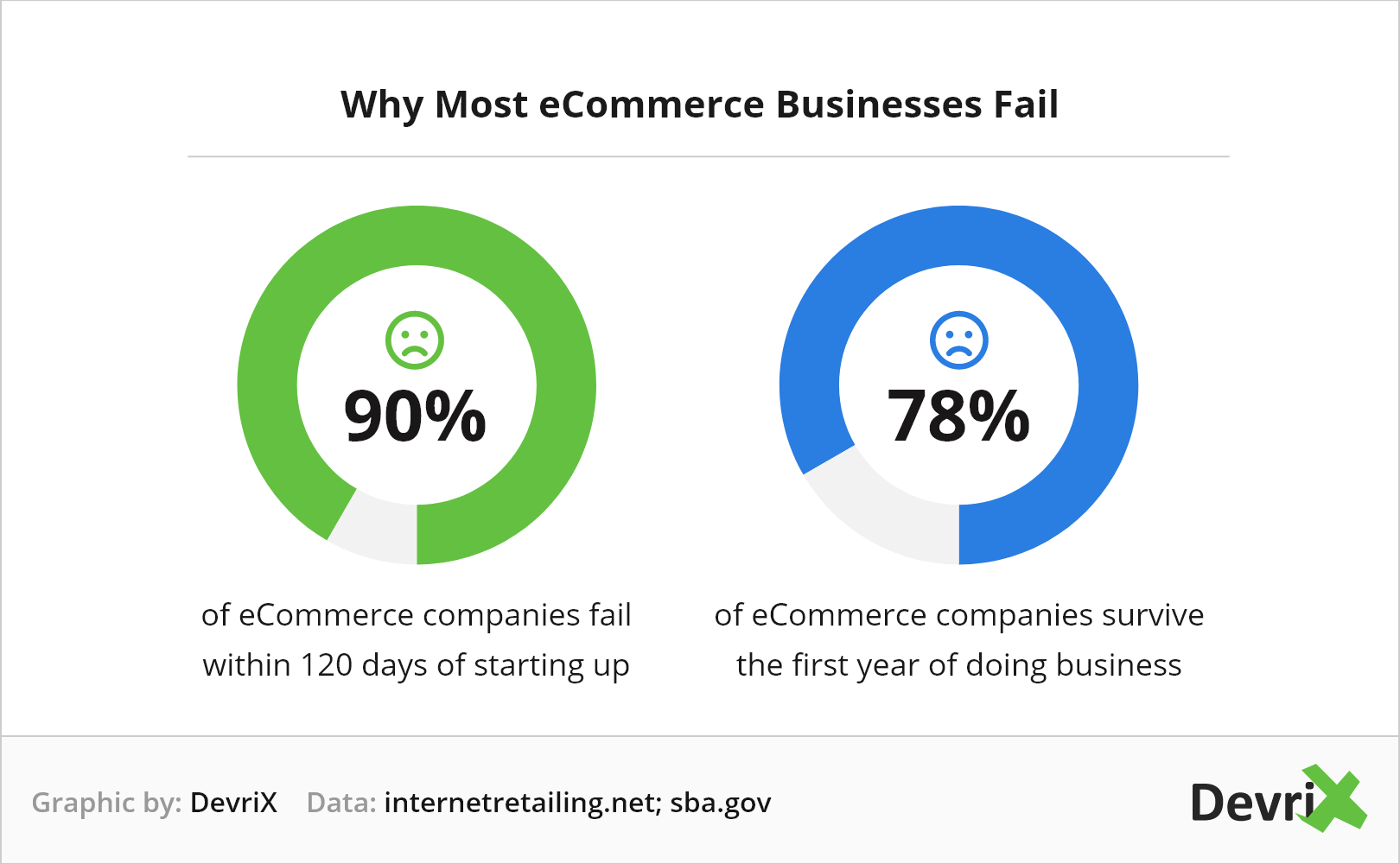 source devriX
However, don't let that deter you from your dreams, whether that be escaping the 9-5 grind, building a money-making empire, or simply creating a side hustle, although, you most certainly need to embark on educating yourself.
For many entrepreneurs, failure occurs far more than success. Take the time to get the basics covered:
SEO
Marketing
Product sourcing
Business and expenditure basics
You see, regardless of whether it's dropshipping or not, building an online business takes more than just the product.
Why a bad idea from a dropshipping perspective:
Poor delivery times
Littered with scandalous manufactures
Low-quality products
Challenging to handle returns and refunds
Low-profit margins
Common reasons for failure:
Lack of SEO knowledge
Sourcing low-quality products
Zero business knowledge
Relies heavily on ads
No Brand
Poor UI/UX
Not physically testing products
Zero effort to measure demand
No transparency
Avoid fake gurus and spam-littered Facebook groups. Invest in a legitimate course that teaches the basics.
Udemy is the largest professional platform to educate yourself, and it's affordable! Not to mention, if you're not happy within 30 days you can get a refund!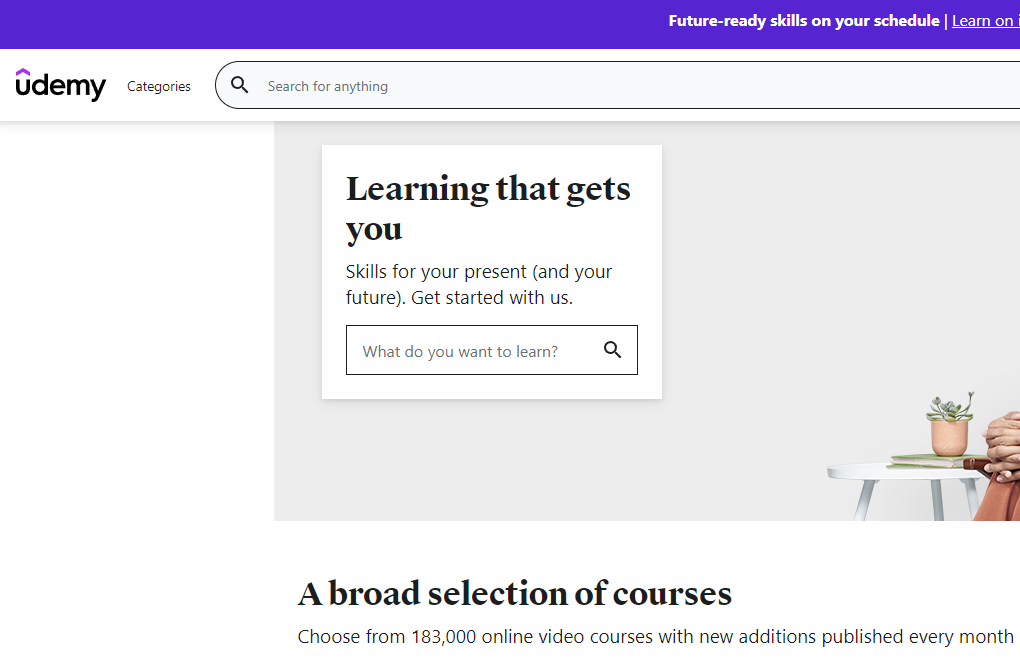 Udemy
Education is knowledge, Knowledge is power, Power is money!
The Advantages
Not to discredit dropshipping too hard, it's still a viable business model, and for the very few. Dropshipping can be extremely financially rewarding, with no physical inventory and no warehouse costs, it's an ideal online business model for new entrepreneurs.
1, Expansive Product Offering
The potential is HUGE, with hundreds of dropshipping suppliers around the globe, and the product offering in the hundreds of thousands range, you'll be sure to find a product worth selling.
Leading Suppliers/Apps:
2, No Product Inventory
Does it need explaining?! No inventory means no replenishing stock, stock count, and the pick, and pack process. Ultimately saving a lot of money!
The pain an eCommerce retailer must go through to manage inventory, order inventory, allocate and distribute is a painstaking process, unless, of course, sales are extraordinarily high, in which case, recruiting the help of a distribution center is a must to scale.
3, Manufacturer/Supplier Handles Delivery
The delivery, somewhat a painful process at times. Not anymore, the burden has been completely removed. Your only focus is to drive customers to your online store, and customer support.
4, Small Upfront Investment
In comparison to other online business models, dropshipping is an extremely affordable option to start an online business.
Rough monthly breakdown:
At a basic level, monthly outgoings currently hover around $32.33 / £27.62
Dropshipping Mistakes to Avoid
1, Not Being Transparent with Shipping/Delivery Times
Zero effort on delivery transparency will drive customers to look for alternatives if shipping/delivery is displayed at checkout with horrendous delivery times.
Hard to digest, but in a world of same-day, and next-day delivery, dropshippers are going to find it extremely difficult to convert customers, especially with no focus on transparency.
Transparency with detailed information on delivery times, and order tracking is an important factor to deliver an outstanding online shopping experience.
Failing to be transparent will see your reputation plummet, or worst, your online business failing.
2, Not Testing The Product
Really?! Building a store, paying for multiple services and plugins but not ordering the product to test the quality?!
Product testing is the foundation to determining whether the product reflects the brand, the product is of good quality, and most importantly, poses no ill effect to the customer.
The benefits of product testing:
Quality test
Determine if the materials are hazardous
Ability to answer product related questions
Stress test
Provide better photos
Create better product descriptions
Product feedback
Be more than average dropshipper! Ensure your success by following the correct practices discovered by successful entrepreneurs.
3, Not Taking Photos Of The Product
Most dropshipping stores can be spotted from Mars, why? because the photos are pretty damn poor.
Product photos increase your brand positioning and instill's trust. Over the years customers have grown to understand what makes a great store. Design and product shots will help increase conversions.
Why great product photos play a vital role:
Helps build a brand
Eyes are drawn to images before text
Quality images help customers understand the product
With many stores selling the same product, it will give a competitive edge
Increased sales
They help with sharing on social media
Taking quality photos with today's technology could not be easier. Have a modern phone/device? If yes, buy a lightbox!
A quick google search returns affordable lightboxes for every budget: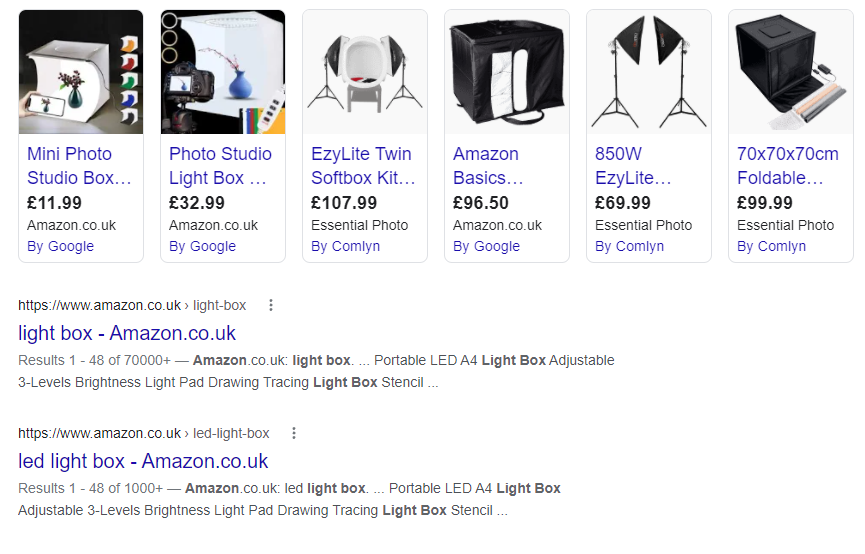 4, Ignoring Retention Marketing
The dreaded 1TP (One-time purchase), in a world where brand, loyalty, and returning customers determine the longevity of an eCommerce business, most dropshippers struggle to understand the importance of retaining customers.
"Customer retention measures not only how successful a company is at acquiring new customers but also how successful they are at satisfying existing customers. It also increases ROI, boosts loyalty, and brings in new customers." - Source HubSpot
Benefits of retention marketing:
Costs less to convert a loyal previous customer
Loyal customers bring in new customers by word of mouth
Brand begins to emerge
Recruit brand ambassadors
Product test with ambassadors
Gain insight to improve services
Read our guide: retention strategies to help increase revenue by 35%
5, Choosing Low-Quality Products
Most dropshippers assign to the idea that filling an online store with hundreds of products will yield a healthy return. - it does not work.
Approach sourcing products with extreme caution, even more so when ordering from Aliexpress, or Alibaba.
"Provide high-quality goods that do not deteriorate within months, or can at least be recycled, reused, or made into other things. Make products that create a strong bond with the people who own them; this will result in a deeper connection, not just with the products but also with your brand. Once you're making quality products, you can think about how the customer interacts with them." - Source Forbes
What makes a low-quality product:
Not approved
Poor craftsmanship
Not listing ingredients
Not listing materials
Adding low-quality products will leave bank accounts with less money, and a reason for store closure.
6, Only Thinking About The Money
Your only goal is to make money! Well, yes, money makes the world go round, but simply focusing on the monetary aspect will leave you in a very precarious situation.
When building a business, you should focus on who you are serving, that's right, serving. In this case, it's selling products to customers.
Your goal is to provide an outstanding service to your customers, and in return, you'll be rewarded with MONEY!
The problem with only thinking about earning money, is you're less focused on building a brand and providing an epic service.
If your only focus is to make money online, then this will lead to the demise of your store.
7, Too Many Product Categories - Niche Down
Focusing on too many varying categories makes it incredibly difficult to become an expert on a particular category.
As a store grows so does the need to answer product-related questions.
Tone it down and focus on delivering a great service. Selling clothes, why sell toys? The mind boggles. Success comes when a product category is "niche down" - become the expert.
Top ways to find trending products:
Be smart, don't add too much because you think it will earn money - less is more!
8, Poor Customer Service
The headaches, the stress. You've started a business but you didn't realize that customers complain. Well, they certainly would do with a poor service.
Countless stores exist where a lack of understanding on how to handle customers and bad reviews. Simply put the customer is always right, you must align with your customer, understand your customer, and most importantly alleviate any issues they may have.
Failing to align with customers, and troubleshoot issues will increase poor reputation/reviews and ultimately the demise of an online business.
Never:
Ignore a customer
Not Resolve an issue
Respond days later - it must be within hours
Use foul language
Talk off-topic (politics, crime, "isms" or "ists")
What is customer service:
"Simply put, customer service is helping customers solve problems, teaching them how to use products, and answering questions. The definition is in the name of the concept — customer service is about serving the needs of customers. And customer service can take many forms — from troubleshooting a product installation to downloading software to processing a purchase return." - Source HubSpot
9, Not Investing In A Quality Shopify Store Design
Image, appearance, aesthetics, brand, it all matters. Now in a world where we hate the idea where "image" is judged, but unfortunately exists, and same applies to the digital world.
Creating a website with low-quality images, poor structure, and terrible font will most certainly drive customers away.
What constitutes a good design:
Clear legible font
Responsive layout
Quality high res images
Obvious layout and structure
Clear CTA
Example of a bad design: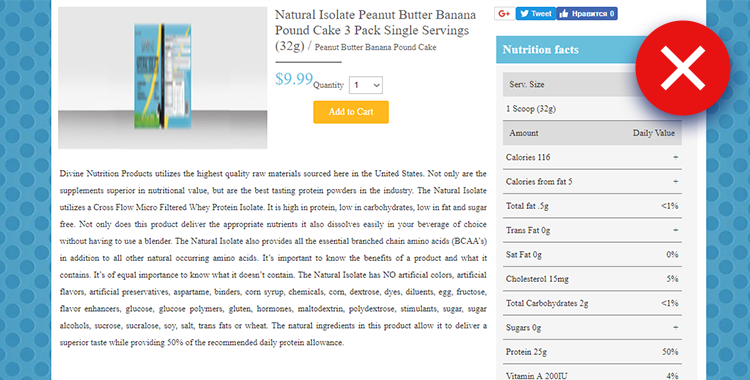 Source Shopping Cart Migration
With the bad design above, it's evident there has been little effort on the color palette, typography, layout, and product images.
Example of a good design: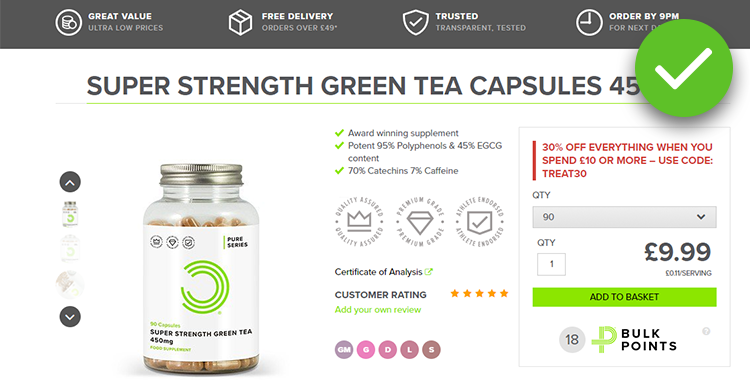 Source Shopping Cart Migration
The above has a clean concise layout with outstanding informative content without being too overbearing.
Quality Shopify themes can be found at ThemeForest, use this to understand good and bad designs.
10, Relying on Ads
The ad beast, it's well known to all in the entrepreneurial world that new entrepreneurs love Facebook Ads. Probably a little too much. The problem typically arises a few weeks into spending all of the marketing budget! What happens when the money is gone? Well, zilch, a desperate attempt to create content and post erratically.
The key to successful stores is to diversify traffic sources, meaning an ad campaign should supplement other methods.
Other methods to gain traffic:
Influencer Marketing
Blogging
Building authority in social groups
Guest posting
Visit our: "How To Increase Traffic To Your Shopify Store" for greater depth.
If you are embarking on an ad campaign, always consult professionals first, this will ensure you have all the right information going forward, or just simply leave it to the professionals.
Social Nucleus is a game-changer for many Shopify retailers with reports of generating thousands, upon thousands in revenue in as little as 3 months. They offer a chat service to see if you have a product that could break the bank.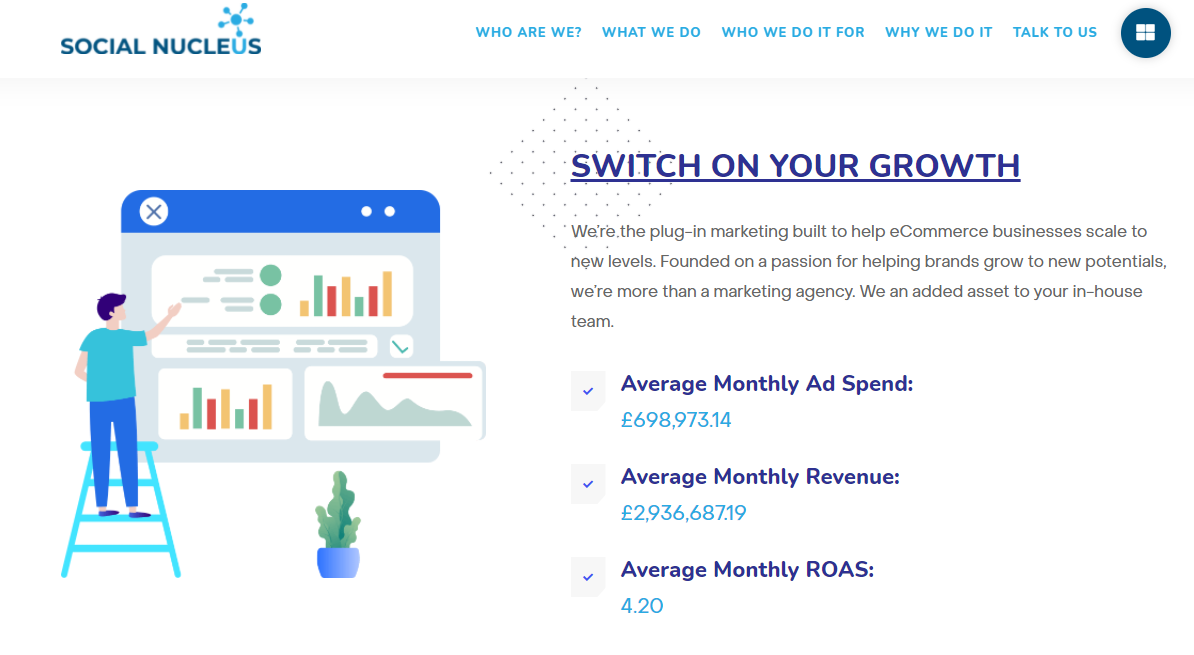 Social Nucleus
11, Not Testing The Demand
Why, why, why would anyone spend countless hours building a business and not test demand?! Regardless of whether it's a physical product, dropshipping store, SaaS product, Blogging, or selling courses. Measuring demand it's absolutely essential to determine if a business is going to be a profitable one.
Think about it, why sell t-shirts with an acorn print, if the world couldn't care less, or not even remotely interested. Always measure demand, it's relatively easy with a landing page, product shots, and a Facebook ad.
Using any landing page service is easy to set up, however, UnBounce is currently a leading platform, with a 14-day free trial!
Unbounce
12, Not Willing To Invest In The Right Tools
"I want to start an online business, but I don't want to spend money"
"I want to start an online business, but I have a very small budget"
"I want to capture email addresses and send an email each week, but don't want to spend money"
Sound familiar? It's extremely common, and quite frankly it's difficult to start a business without a helping hand from services, and plugins, unless of course, you're a software engineer.
Tools that will make life easier, and potentially make you more money online:
Almost every store running to date will use most, if not all of the above to help scale a business.
13, No USP
You are a tiny fish in a vast ocean, with many other tiny fish of the same species - how do you differentiate from all the other fish?! Create a unique selling point - you certainly want an angler to think you're a great catch!
Running a footwear store? Trying to create a premium product that focuses on the usage of sustainable materials.
Running Arts & Crafts store? Trying planting a tree for every 'n' spent.
Leverage the power of current talking points: "Climate Change", "Vegan / Plant-based products", or "Contribute to a charity".
Whilst a USP is a process to stand out from the crowd, it's also a process to give back to the world/society. Be more than the average online business.
14, Not Providing Valuable Content
Times are changing customers want to feel connected to brands, they most certainly want to align with retailer ambitions and growth.
Show your customers you care, show them that you're an expert in your niche. Create fun, engaging, and informative content to build a targeted audience. As the months pass, audiences, credibility, and authority will grow, which in turn, converts to money.
Head over to our "how-to blog for business" post to learn more.
15, Adding Discounts To Most, If Not All Products
Applying discounts to every product in the store typically appears to be a desperate attempt to make a sale. Discounts are for promotional purposes and low-performing stock. Applying a discount to EVERY product emits a poor understanding of running campaigns.
As customers are becoming tech-savvy, more and more see-through odd techniques to make a sale. Focus on building a fan base, then sell at retail price, with a periodic promotion to clear out stock that's not selling well.
16, Not Replacing Dropshipped Products With Physical Inventory
The time will come when lengthy shipping delays leaves a bad taste in your customers' mouth, and you realize that you're plagued with rising ad cost, low-profit margins, and poor acquisition costs.
Benefits of replacing dropshipped products with physical inventory:
Utilize better packaging
Provide better delivery times
Control the quality of the products
Leverage post-purchase customer retention strategies
Create jobs in the local community, or provide work for local distribution centers
Potential to increase profit margins
The Takeaway
Any online business is a challenge, and more so with dropshipping due to the common pain points discussed, but you can be successful!
Focus more on education, avoid fake gurus, and always have the customer in mind.
To summarize avoid the below common mistakes:
Not being transparent with shipping/delivery times
Not testing the product
Not taking photos of the product
Ignoring retention marketing
Choosing low-quality products
Only thinking about the money
Too many product categories - niche down
Poor customer service
Not investing in a quality shopify store design
Relying on Ads
Not testing the demand
Not willing to invest in the right tools
No USP
Not providing valuable content
Adding discounts to most, if not all products
Not replacing dropshipped products with physical inventory
What next:
Additional Shopify Resources
With Shopify being one of the largest eCommerce platforms on the market means you'll never be short of resources to learn how to build a profitable eCommerce business.
Kanteneo aims to be the best Shopify blog on the market, but you may require additional resources to help you on that journey. Below we've listed a top-selling Shopify book by Veronica Jeans to help you learn how to launch a profitable business.
Author