How to Get Easy Backlinks The Right Way
With a growing number of scam services, it's no surprise that many new website owners struggle with the concept of how, and where to create quality backlinks - but it can be simple to get easy backlinks, simply by leveraging brand, social, and profile backlinks.
It's worth pointing out that not all links are equal - submitting your site to questionable directories/link farms will only harm your link building efforts in the future. However, it's perfectly acceptable to create an account on social media that links back to your site. This is not deemed as a "black-hat SEO" tactic. Adding links to comments, forums, testimonials, just for the purpose of creating a backlink is a process that Kanteneo does not advocate.
Creating links in a natural flow that enhances product offering and provides value will always be the best backlink strategy.
Good examples:
Creating a profile on medium.com to add canonical content
Posting content on Pinterest that links back to the blog post
Submitting business/site details to reputable local directories
Using outreach services
Guest posting
Bad examples:
Spamming comments
Buying irrelevant links from cheap services
Using link farm directories(example: faucre.com/website-list-963/)
Spamming testimonials
Spamming forums
Like all free information that exposes a cheat sheet on easy backlinks, it's not "one size fit's all"! Below you'll find 140+ services/brands with some allowing profile creation with a field to add your domain.
Choose the services that align with your website, fill in all forms, and connect with your social media accounts.
When creating profile accounts be sure to provide value, whether that be Medium, Pinterest, Moz, or Scribd. It's worthwhile providing value on each platform to increase your audience.
Before moving onto the 140+ easy backlink opportunities, let's recap on what is a backlink, and why backlinks are important.
Related blog posts:
1, What Is A Backlink?
A backlink is a link from a website to yours. Major search engines use backlinks as a primary factor to determine whether your site is trustworthy or not. As one of the primary factors, it is deemed as the holy grail to improve rankings, but not all are equal! Generating low-quality backlinks will harm your site's authority, and ranking - In a worst-case scenario penalizing your site's rankings, or worst de-indexation!
1.1, What Are Inbound Links?
An inbound link is a link coming from another website, the more quality inbound links obtained, the more a website becomes authoritative, usually improving DA/DR and rankings.
1.2, What Are Outbound Links?
Outbound links are typically the links where the website links to "outside" resources, usually products, services, and/or accreditation.
2, Why Are Backlinks Important?
Like everything in life, admittedly not always ideal, but nonetheless, popularity, and authority plays a huge role in life, and search engines.
Backlinks play a role in determining whether a site is of value, meaning a site of value will ultimately increase in rankings, thus sending thousands, upon of thousands of targeted traffic.
The increase in traffic typically means more money! The sole reason to rank high is to get leads and more money!
If the above paragraph does not highlight the importance of a backlink - let's assume you've just launched a new business, Google sees your site, but it's not sending organic traffic, sure you could spend a lot of money on ads and create content on social media, but what happens when funds dry up because you've spent an extraordinary amount of time on short-lived content?
Focusing on real, and valuable content generates backlinks. Quality backlinks increase authority, authority increases rankings, ranking increases traffic, traffic increases sales and leads.
Focusing on quality backlinks will help drive your business in the right direction.
To find out more about Google ranking factors check out 200 factors by backlinko
"Backlinks are especially valuable for SEO because they represent a "vote of confidence" from one site to another. In essence, backlinks to your website are a signal to search engines that others vouch for your content. If many sites link to the same webpage or website, search engines can infer that content is worth linking to, and therefore also worth surfacing on a SERP. So, earning these backlinks can have a positive effect on a site's ranking position or search visibility." - Source Moz
3, How Are Backlinks Earned?
1, Natural Links… natural, natural
Links earned with zero effort by the website owner. Simply put, the rest of the world sees your content as link-worthy. Whilst no easy feat, this is typically achieved by creating phenomenal content, either a blog post, infographic, or video. Providing real value often gets linked to.
2, Black-hat tactics
This must be avoided at all costs, you may see your DR on ahrefs improve, but in the future will harm your SEO efforts.
Common black-hat tactics:
Obtaining links through spammy comments
Using links farms, or link directories
Purchasing irrelevant links
3, Manual links
A manual link is what most will be familiar with, and is common throughout SEO agencies. The means of a manual link is achieved by guest posting, creating relevant social/brand profiles, and asking relevant content creators to link to your site.
4, Backlinks To Avoid
Because you can, doesn't mean you should! After all, if your content/website covers clothing, why would you want to be linked from a site promoting camels?
Whilst it's perfectly acceptable to be linked from directories, socials, brands, and media outlets, however, you most certainly should avoid link grabbing (accepting any and all).
In most cases, you'll want to avoid sites that have zero authority (DA 0, DR 0).
Most common links to avoid:
Link farms
Links from sites with inappropriate material
PBN links
Off-topic links
Unmaintained directory links
Links from dead sites
5, Can You Buy Links?
Whilst a controversial topic, the answer is yes! But proceed with caution. For context, let's assume you've found a top-rated directory, to add your business, which in turn links back to your website, but it has a fee associated with signing up?
You run a blog, and you want to add your site to Blogarama? Blogarama is stated to be the oldest blog directory in existence. Whilst, adding your website is free, it can take months to be approved, paying to be approved is an option, thus paying for a link back to your website?
Also, you may opt to pay a company to create content, outreach to related companies, and guest post?
It's all buying links to some degree and is deemed acceptable. However, you must avoid shady services offering small fees to generate hundreds of backlinks! This will only serve to harm you in the future. Backlinks that add zero weight should be removed.
Google guide to disavow links: https://search.google.com/search-console/disavow-links
6, How To Get Backlinks Fast
Unfortunately, creating quality backlinks is a long, slow process, and may take months to create professional relationships to leverage reciprocal links.
However, there are a few approaches to speed up the process:
Create awesome infographics
Guest post
Submit to well-known safe directories
Social/Brand accounts
Below you'll find over 140 backlink opportunities, but before going crazy signing up, always have a strategy in mind, and focus on what's right and relevant to improve your ranking.
7, Indirect Backlinks
The need to get your content seen to acquire those precious natural backlinks has never been more important. Let's face it, if your content has zero visability, how can you possibly improve your backlink profile?!
Indirect backlinks refers to using a service that indirectly results in one or more backlinks with zero intention.
7.1, Quuu Promote
As with any new content, it's important to promote to improve backlinks - which ultimately increases rankings.
One of "Googles" ranking factors is social signals, which alludes to social proof, and more importantly, "who's sharing your content?".
Well, meet Quuu Promote! An automated service that utilizes an RSS feed to share content with content publishers. Those content publishers will then promote on social media.
After a few weeks of using Quuu Promote, we noted our backlinks increased by 3%.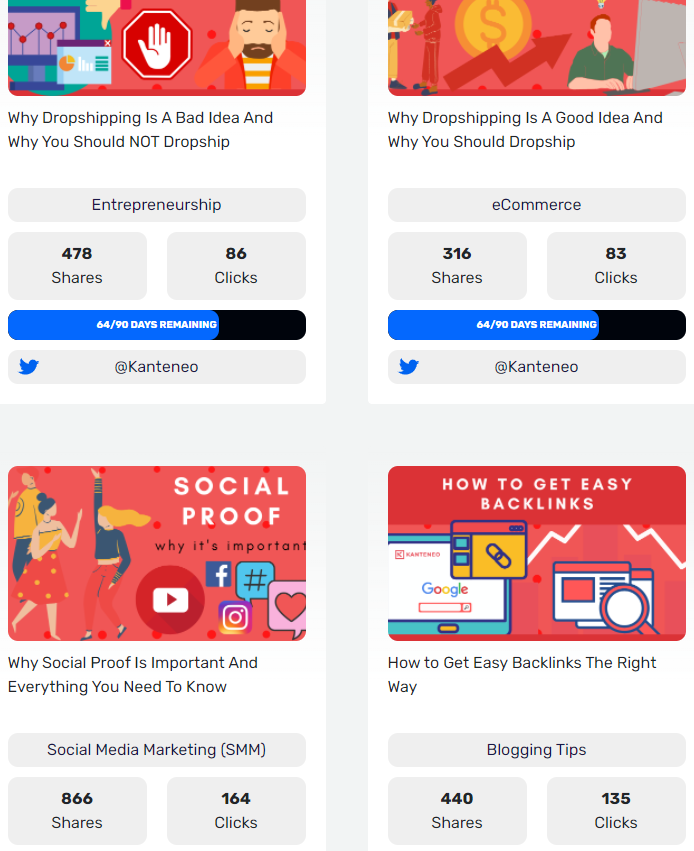 Quuu Promote
The Takeaway
Whilst many fear identifying a backlink strategy, it's truly not difficult, in most cases link-building appears to be a stress factor when building a new website/service. Take the time to understand what service compliments your offering. I.E links from Pinterest, when active on Pinterest. Submitting open-source projects to GitHub. Creating canonical content on medium. Once a strategy has been defined, go create those accounts, be active, and most importantly engage.
As quality content grows, social profiles begin to grow, which ultimately increases backlinks.
Once you have exhausted all avenues to get initial link juice, it's vital to start creating killer content.
To summarize, we've briefly covered:
What is a backlink
Why backlinks are important
Backlinks to avoid
How to get backlinks fast
Using paid services
What next:
Additional Shopify Resources
With Shopify being one of the largest eCommerce platforms on the market means you'll never be short of resources to learn how to build a profitable eCommerce business.
Kanteneo aims to be the best Shopify blog on the market, but you may require additional resources to help you on that journey. Below we've listed a top-selling Shopify book by Veronica Jeans to help you learn how to launch a profitable business.
Author