10 Best Shopify Email Marketing Apps
Using Shopify email marketing apps to build a fluent, streamlined email marketing strategy is still unknown to many store owners. However, some may feel trepidation and ill-equipped to identify the best Shopify mailing list app.
The vast majority of store owners run Facebook ads, google ads, and Pinterest ads as their sole marketing strategy, but only a handful of Shopify store owners invest time and money into building an email list.
Whilst the obvious benefit to building an email list, is increasing revenue, other benefits can be leveraged too, such as:
Product validation
Building relationships
Sending discount offers
Sending company news
Customer retention
Personalized experiences
Additional channel
Sometimes, it goes beyond the need to build an email list solely for revenue, it's also great to build multiple channels to become as fault-tolerant as possible.
In the world of eCommerce and Google, anything can happen! - what happens if your site is penalized? or Google has a meltdown? Would it not be great to have a huge email list as a fail safe?
The same applies to Shopify, what if Shopify had a catastrophic technical meltdown?
You see, an email list is also used to salvage some sort of business - otherwise known as "data diversity", or "fault-tolerant"
Ok, now the blurb is out the way, and before moving on to email marketing for Shopify apps, we'll cover the most common question, "what is the best email marketing app for Shopify".
Related blog posts:
What is the Best Email Marketing App for Shopify?
Call us biased, but we personally believe that ConvertKt for Shopify, is a force to be reckoned with, a true masterpiece.
ConvertKit was founded in January of 2013 by Barry Nathan. Barry Nathans's goal was to find a better way to reach his audience through automation and intelligent funneling.
ConvertKit has grown into a beast and is now reported to be worth $196M
If you're looking for the best, then ConvertKit meets those requirements, especially because the founder started exactly where you are now - A need to reach customers through email marketing to increase revenue.
ConvertKit features:
Drip sequences
Event sequences
Landing pages
Opt-in forms
Data sync
Automated funnels
Convertkit and Shopify is the perfect combination.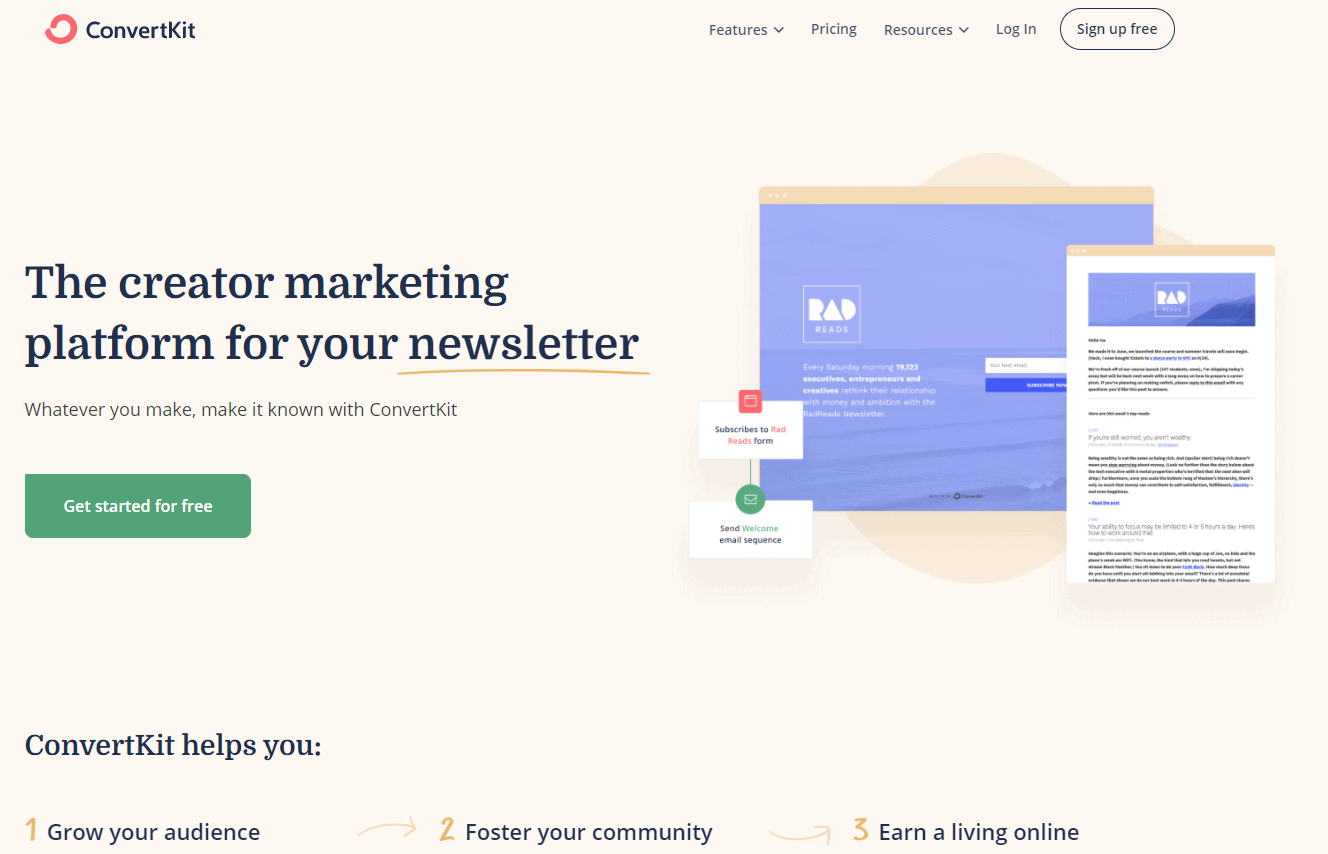 ConvertKit Shopify integration
To note, ConvertKit is not directly accessed through the Shopify app store, however, it is an easy integration process with only 3 steps: https://help.convertkit.com/en/articles/2502562-shopify-integration
While we believe ConvertKit is currently the best on the market, we really have to list Omnisend in a poll position, due to its sheer popularity and global recognition.
You see, while this blog post alludes to the best email marketing app for Shopify, Convertkit, and Omnisend go beyond Shopify as their core target audience. Their audience is far-reaching, support is amongst the best, and most importantly they are just damn good at what they do.
Omisend is currently listed below, but we feel inclined to give Omisend a prominent position.
Omnisend
Omnisend is an all-in-one marketing solution, focusing deeply on Email and SMS marketing. The platform as a whole is used by 70,000+ store owners worldwide!
With Omnisend you can create fully customizable opt-in popups, signup bars, landing pages & wheel of fortune. All with ready-made themed templates, including notifications and promotions.
Store owners choose Omnisend to maximize one-time purchases and repeat purchases all from one solution.
Omnisend features:
Abandoned cart recovery emails
Post-sales & order follow-up emails
Product & Browse abandonment
New subscribers (welcome emails)
Customers likely to churn (win-back, cross-sell & reactivation emails)
Customer feedback and product reviews
A drag & drop email builder
Ready-made, responsive email templates on any device
Unique coupon codes
Automatic product picker listing
Product recommender
Omnisend integrates with:
Gorgias
Justuno
Recharge
Aftership
LoyaltyLion
Loox
Price: Free with 250 subscribers and 500 emails per month & up to 60 International SMS. $16 per month with 500 subscribers and 6,000 emails per month & up to 60 International SMS. $59 per month with 500 subscribers and Unlimited Emails + Free International SMS/MMS.
Reviews: A whopping 4385 Omnisend Shopify reviews to date
Rating: 5.0 stars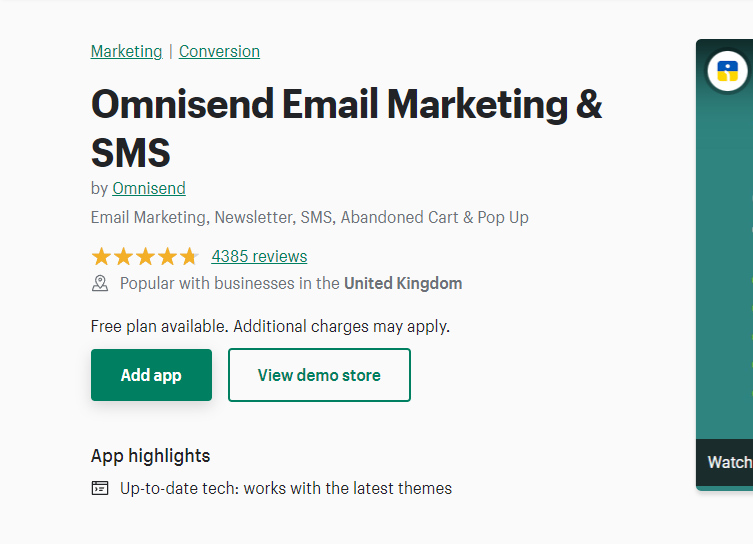 Omnisend Shopify App
What is the Best Free Email Marketing App for Shopify?
Strictly speaking, most are free if you're just getting started, and you have few subscribers.
You'll find it impossible to find a free solution if you have many subscribers, and you send thousands of emails per month.
Why, because developers/companies around the world build services to make it easier for you to focus on what's important, growing your business. Let's face it, it's not really fair to want something for free, especially for companies spending months, or even years building a solution to make your life easier.
We've used MailMunch a few times over the years, and we're happy to report, that we've voted for MailMunch as the number one free email marketing app.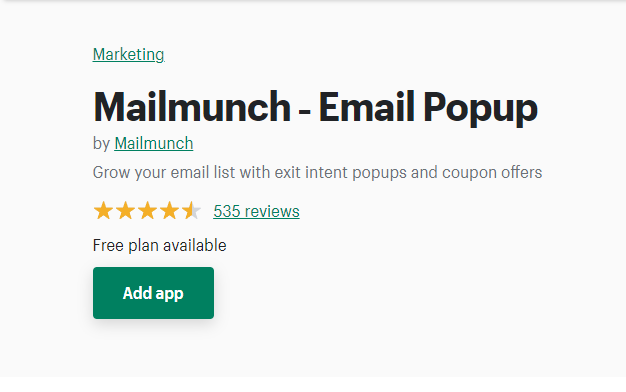 MailMunch Shopify App
It's important to note, that MailMunch is free if you send 1000 or fewer emails per month, and your only requirement for functionality is Forms, Popups, and landing pages.
10 Best Shopify Apps for Email Marketing
The Takeaway
Most e-commerce websites rely on social media ads, search ads, and influencer marketing for sales and marketing. However, some e-commerce websites pay close attention to building an email list for diversity.
The Shopify platform has a number of email marketing apps, internally, and externally, to create opt-in forms, landing pages, and flows. So now is the time to increase revenue through email marketing.
To summarize we've briefly covered:
Best free Shopify email marketing app
Best email marketing app for Shopify
10 best Shopify email marketing apps
What next:
Additional Shopify Resources
With Shopify being one of the largest eCommerce platforms on the market means you'll never be short of resources to learn how to build a profitable eCommerce business.
Kanteneo aims to be the best Shopify blog on the market, but you may require additional resources to help you on that journey. Below we've listed a top-selling Shopify book by Veronica Jeans to help you learn how to launch a profitable business.
Author