How to Turn off the Shopify Abandoned Cart Email
Turning off the default Shopify abandoned cart email has its perks, especially when leveraging better email services, and automations. However, turning off the email without any process to send an email is not a good idea.
Why are abandoned cart emails important? Because they draw back potential customers to your site, and hopefully with a little persuasion you can secure that all-important sale.
When done correctly, you can start to form a relationship and build trust, this then becomes extremely valuable when you need to gather feedback, cross-sell, upsell, and collect reviews.
Based on averages across multiple industries, it is reported that the abandoned cart rate for mobile is as much as 85.65%. Followed by Tablets at 80.74%, and lastly Desktop at 69.75%.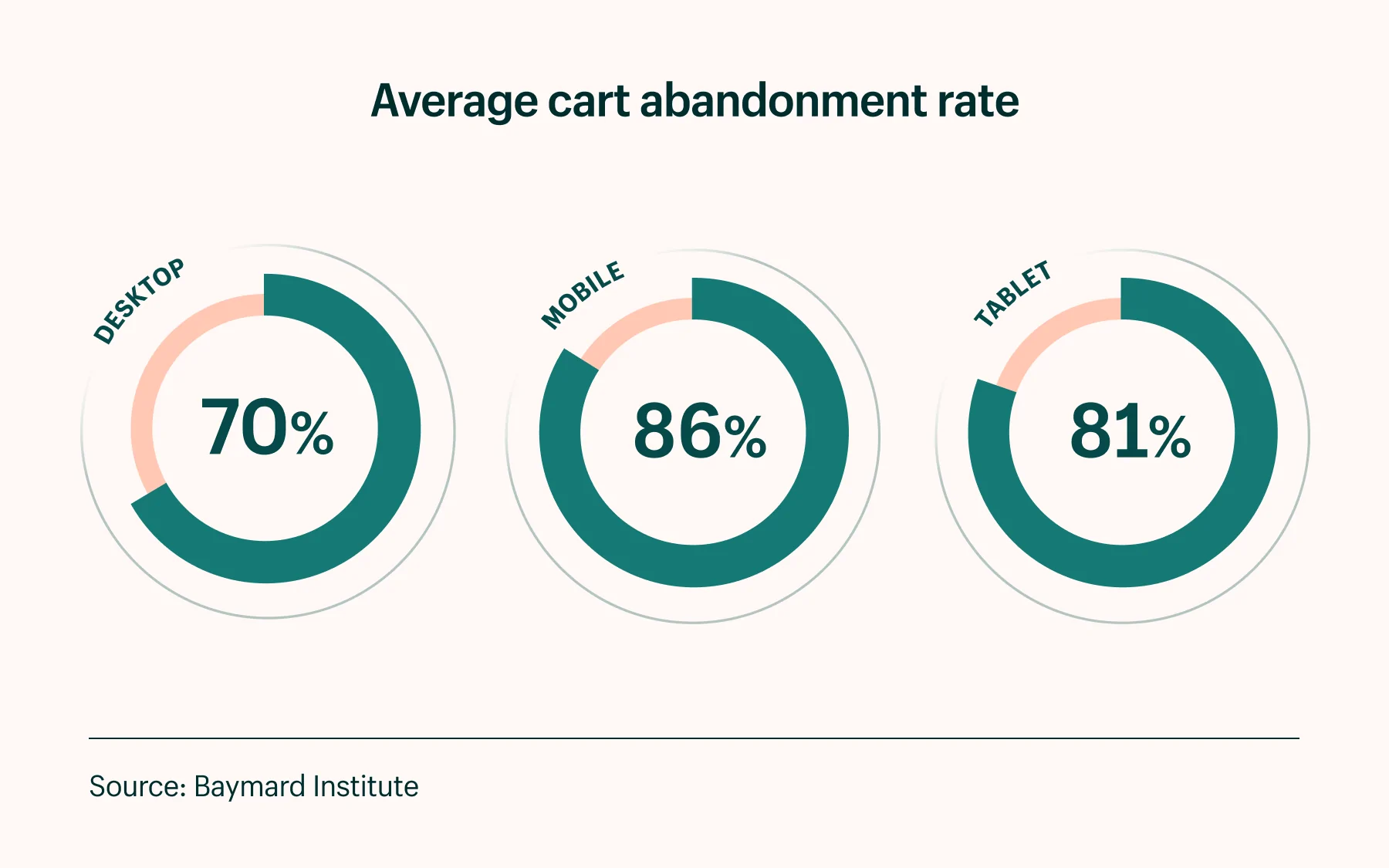 Source: Shopify
What does all of this mean? It means you're not alone. You can do almost everything right, and still hit the dreaded abandoned cart.
A few tips to help reduce the abandoned cart rate:
Implement transparent shipping and cost
Be transparent on overall costs
Ensure you have a bug-free and smooth checkout process
Leverage live chat if possible
Utilize social proof to demonstrate demand and popularity
Monitor / track where users jump ship. This will help resolve any UX issues
To better understand what makes the perfect abandoned cart email, check out Shopify's best examples: https://www.shopify.com/uk/blog/abandoned-cart-emails
Ok, now that the stats are out the way, below you'll find the steps to turn off the abandoned cart email in Shopify.
Related blog posts:
How to Turn off the Shopify Abandoned Cart Email
Step 1: Settings
Click Settings.

Step 2: Checkout and Accounts
Click Checkout and Accounts.

Step 3: Abandoned Checkout Email
If checked, uncheck the abandoned checkout email checkbox.

In the above examples, we'll treat "abandoned cart", and "abandoned checkout" as the same. One can not send an email to an abandoned cart user without storing the email address first. Unless of course, you enable push notifications.
Furthermore to the examples above, and an important one to highlight, is that if you've opted to use the Shopify workflow automations, then the disable abandoned checkout email in settings will be automatically disabled.
You'll simply need to navigate to the marketing page, and marketing automations, then disable the respective automation email.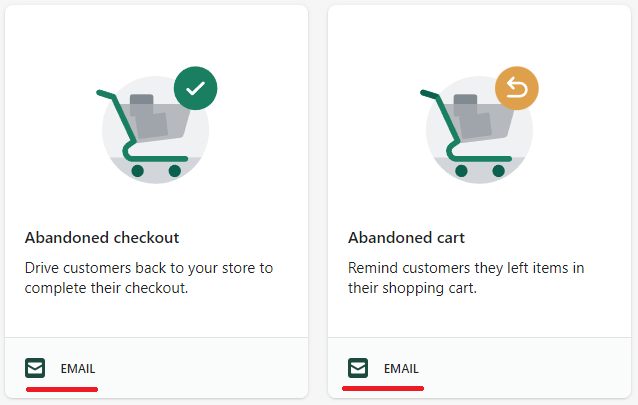 Whilst the steps involve turning off the abandoned checkout email, we'd like to discuss the difference between an abandoned cart and an abandoned checkout.
Most will use these terms interchangeably, but there is a difference between them. The difference between abandoned cart and abandoned checkout is that abandoned checkout refers to the checkout being abandoned after customer details have been added to the checkout process. Whereas cart abandonment is typically the cart being abandoned at any part of the process before the checkout.
The Takeaway
If you're at the point of disabling cart/checkout automations in Shopify, then this would imply an element of success. Meaning you're in the process of implementing third-party solutions to tackle abandoned carts. So this is something of a victory right?
Keep pushing and working hard, the results will come!
Similar to you, we always strive to be the best, and quiet simply, we've used some of the best tools on the market. You should certainly check out ConvertKit.
ConvertKit allows you to set up drip sequences, and automations to help increase conversions.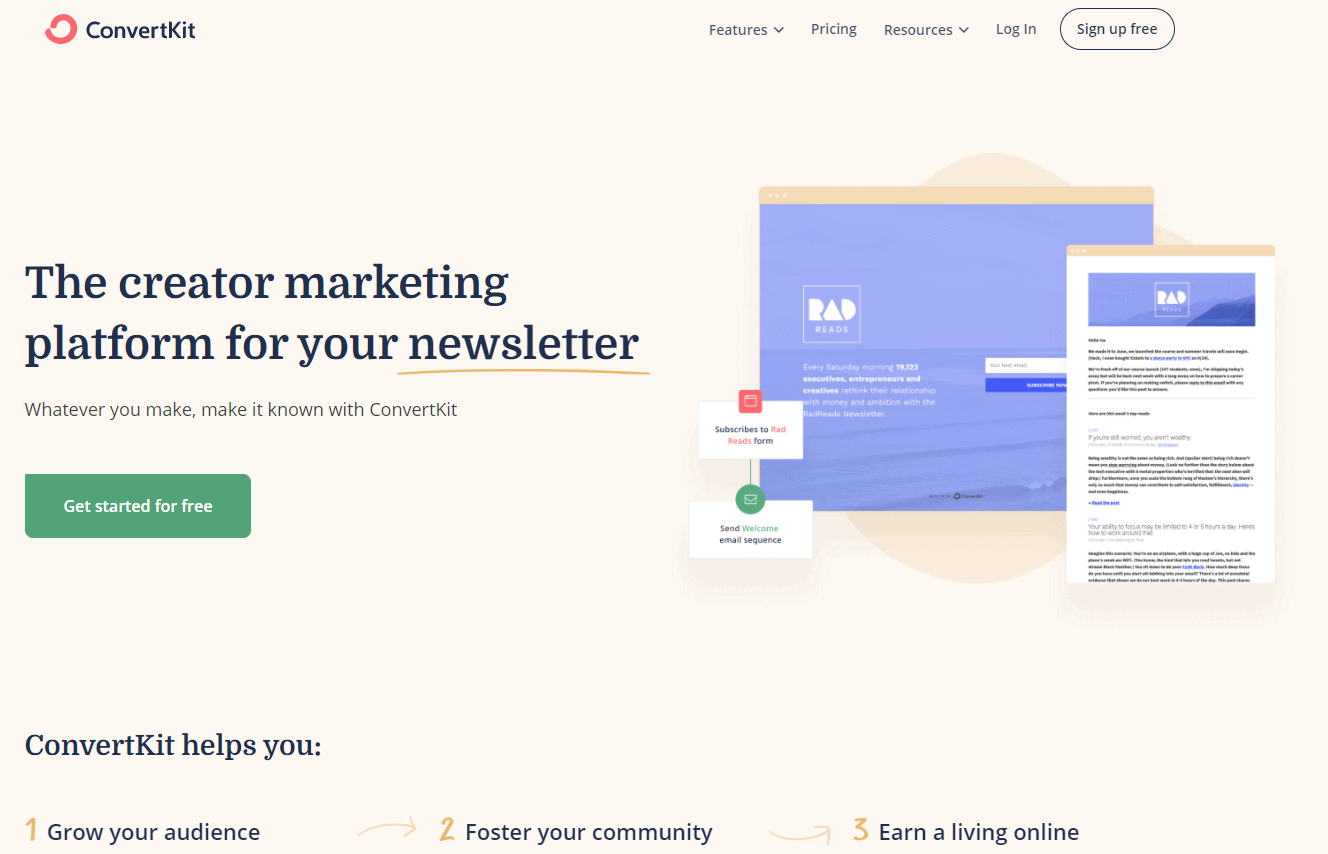 ConvertKit
To summarize we've briefly covered:
How to turn off the Shopify abandoned cart email
What next:
Share this post, every little helps.
Subscribe to our newsletter below for tips and tricks to help boost sales.
Additional Shopify Resources
With Shopify being one of the largest eCommerce platforms on the market means you'll never be short of resources to learn how to build a profitable eCommerce business.
Kanteneo aims to be the best Shopify blog on the market, but you may require additional resources to help you on that journey. Below we've listed a top-selling Shopify book by Veronica Jeans to help you learn how to launch a profitable business.
Author