What is MyShopify and Everything You Need to Know
When it comes to starting a new eCommerce business, there is a good chance you've thought about leveraging Shopify, or at least read an article on "what is Shopify?". After all, it is one of the best platforms for merchants to set up a dedicated online store and start selling a wide array of products.
In the last 15+ years, Shopify has continued to serve diverse eCommerce players. It would be fair to state that Shopify has made the eCommerce space more competitive.
In fact, Shopify covers 11% of the eCommerce share. Moreover, over 50% of Shopify stores experience consistent purchases. It is no wonder so many people want to start a new online store.
But when this process starts – it is common to come across a sub-domain that contains "MyShopify". So, how does MyShopify fit into this picture? Well, before you launch your new online store – it is important to understand what MyShopify URL signifies in the eCommerce space.
Keeping that in mind, let's tap into more details about MyShopify and what role it can play in your new online business.
Related blog posts:
What Is MyShopify?
The "myshopify" part of the full MyShopify URL is a sub-domain of the TLD (top-level domain) "MyShopify.com", it is a secure sub-domain assigned to entrepreneurs after creating an account on Shopify.
Once you create a new Shopify account, you are assigned a MyShopify sub-domain. It is a sub-domain owned by Shopify that is not designed to cost you anymore, other than the monthly subscription. Practically, the MyShopfiy sub-domain gives online businesses the wiggle room to develop and test their new website and order processing solution before the final launch.
You cannot change your sub-domain after it is created.
You can most certainly use MyShopify as the main address of your live online store. However, without a custom domain, your potential customers will only see your store's URL in the MyShopify format.
Recently, many people have started to view MyShopify as a scam. But contrary to misguided perception, MyShopify is not a scam. However, online merchants should understand that most customers don't know that MyShopify is a sub-domain from the Shopify eCommerce platform.
To give visual Clarity - Most of our Shopify tutorials include interacting with a Shopify store, and when we do create a new Shopify account, the store name is prepended to MyShopify.com.
An example below: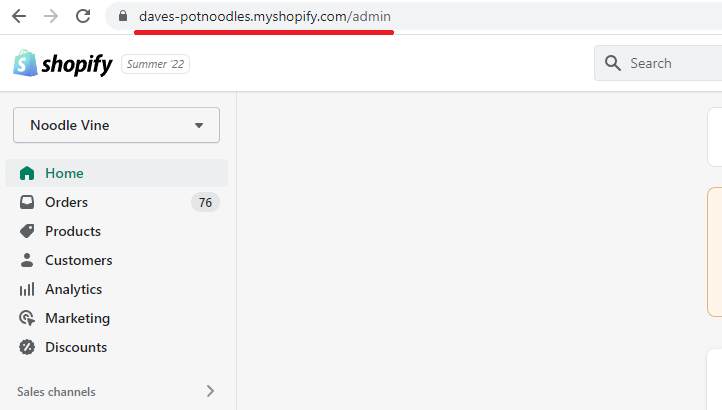 It's worth pointing out again, that you cannot change the sub-domain, but you can change your Shopify store name.
You should look at the MyShopify sub-domain as a testing domain.
When Should You Use The MyShopify Sub-Domain?
A MyShopify sub-domain is useful when you want to test all that Shopify has to offer prior to the final launch.
Remember, once you're ready to roll out your new store, sell your products, expand your business efforts, and build your brand, you will have to bid farewell to MyShopify as the main customer entry point.
When you're ready to assign a custom domain it is a very easy process to purchase a domain, in fact, most new retailers head over to namecheap, and assign a custom domain, all within a few weeks of creating an account.
NameCheap
It's worth pointing out, that you really should validate the design, product(s), UX, customer journey, and payments, before releasing your store to the wild.
Related blog posts:
Why You Should NOT Use The MyShopify Sub-Domain
Technically, every online merchant with a Shopify account gets a MyShopify sub-domain. And it is entirely up to the business whether or not to use the sub-domain for testing purposes. But if you're thinking about using the MyShopify sub-domain to grow your new business, you may experience a lot of SEO, customer, and branding issues.
Now, it is crucial to understand that the MyShopify sub-domain does not have lackluster functionality. In fact, it works just like Shopify does and can process payments. But it is still not a good enough reason to use the MyShopify sub-domain for online stores. And that's because it is more suited for site testing and development.
Apart from testing and development efforts, using the MyShopify sub-domain can become a major negative aspect for your online business. One of the cons of utilizing the MyShopify domain name is that it would confuse your target customers.
Not to mention, using the MyShopify domain name can seriously hurt your brand identity. And before you know it, people won't be able to trust your brand and may even consider it a scam just because of the MyShopify domain.
When you're starting out as an entrepreneur in a competitive eCommerce landscape, using MyShopify is not a natural fit. In fact, it can confuse your offerings and make it difficult to navigate different site pages.
Establishing Brand Identity
If you're in the process of establishing your brand identity, then using MyShopify is bound to hit brand awareness. For instance, when customers check your website via the MyShopify domain name rather than Shopify - they're more likely to leave.
And if this continues – you will lose to your close competition. All in all, the MyShopify sub-domain is not a good idea when establishing a new brand identity.
Suspicious Looking
When you run an online store using the MyShopify sub-domain name, visitors start to see your site activity as suspicious. Although MyShopify is not a fraud or scam, people believe it to be an untrustworthy domain. In fact, you'd be surprised how many visitors would end up viewing your online business as dubious.
So, if you're starting a new venture – it might be a good idea to not directly and exclusively use a MyShopify sub-domain name. Similarly, if you plan to scale up business operations, using a MyShopify domain would make it challenging to achieve short-term and long-term business goals.
Incorporating a MyShopify domain also makes you less discoverable and genuine among visitors. In hindsight, online merchants need to understand that the MyShopify sub-domain name only works when they have to set up a new store in a short time and perform software tests.
The Takeaway
It is better not to utilize MyShopify sub-domain, simply because the domain comes with a stigma that disuedes potential customers.
It's important to note, that branding, and trust is everything in the commerce world. Using the MyShopify sub-domain in a live scenario is not going to give you the ability to scale, and more importantly, you'll find it tremendously difficult to obtain those all important sales.
To summarize we've briefly covered:
What is MyShopify
When you should use the MyShopify sub-domain
Why you should NOT use the MyShopify sub-domain
What next:
Additional Shopify Resources
With Shopify being one of the largest eCommerce platforms on the market means you'll never be short of resources to learn how to build a profitable eCommerce business.
Kanteneo aims to be the best Shopify blog on the market, but you may require additional resources to help you on that journey. Below we've listed a top-selling Shopify book by Veronica Jeans to help you learn how to launch a profitable business.
Author