Does Shopify Have Free Themes?
Yes, Shopify has free themes. In fact, the Shopify theme store has 11 themes covering the most popular niches to ensure you have everything you need to get started.
Whilst the Shopify theme store offers some of the best free Shopify themes on the market, it's important to note that not all will be sustainable in the long run. Meaning, with everything that's free, comes limitations.
You should consider a free theme when you're just getting started and in the early days of your eCommerce journey.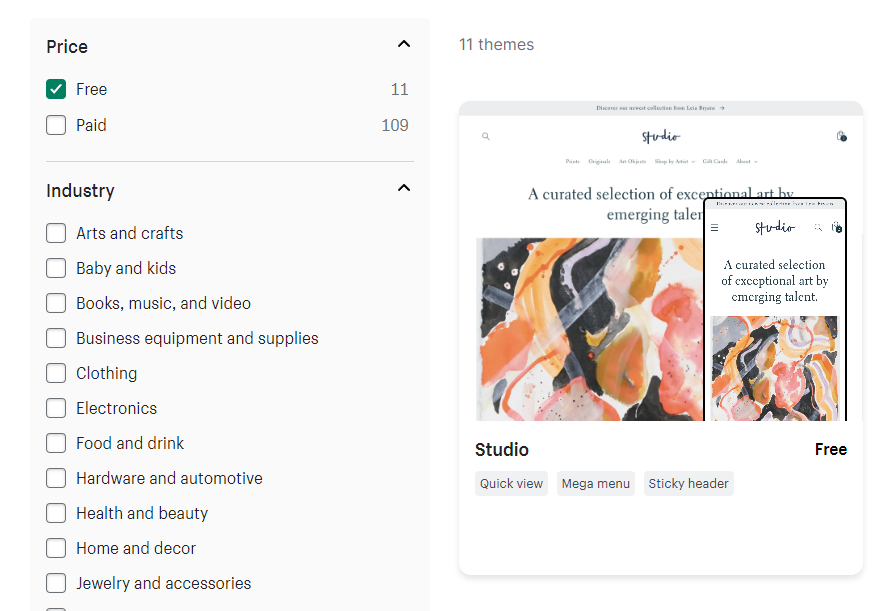 Shopify Theme Store
Sooner, or later you'll come to realize that free themes cannot scale to your expectations.
Nonetheless, you can see still use a free theme and outsource complex customizations on Shopify.
The Takeaway
The Shopify theme store houses a range of free themes to give aspiring entrepreneurs get started quickly in the world of eCommerce.
Take the opportunity to leverage free themes to understand what it takes to customize, edit layouts, add products, and anything else typically related to UX. Once you've understood the mechanics, venture off into the world of paid themes to really bring the wow factor to your visitors.
To summarize we've briefly covered:
Does Shopify have free themes?
What next:
Share this post, every little helps.
Subscribe to our newsletter below for tips and tricks to help boost sales.
Additional Shopify Resources
With Shopify being one of the largest eCommerce platforms on the market means you'll never be short of resources to learn how to build a profitable eCommerce business.
Kanteneo aims to be the best Shopify blog on the market, but you may require additional resources to help you on that journey. Below we've listed a top-selling Shopify book by Veronica Jeans to help you learn how to launch a profitable business.
Author