The Best Place to Buy Shopify Themes
Finding the best place to find Shopify themes can be daunting at first, but the process of comparing theme sites and themes is a valuable journey, but before you commit to that journey you'll need to determine whether you're looking for free Shopify themes, or paid Shopify themes. - understanding your end goal helps save time, and time is money.
Over the last few years, there have been three websites that have dominated the theme scene, but of those three, one has stood the test of time and still continues to offer excellent themes at affordable rates for budding entrepreneurs.
We may be biased but having used themes from all three, we've concluded that ThemeForest caters to almost every niche, and entrepreneur.
With ThemeForest you can expect the following:
Affordable themes
Easy Installation
Additional paid-for support
Theme Updates (Depending on the selected theme)
Multiple theme layouts
Advanced theme configuration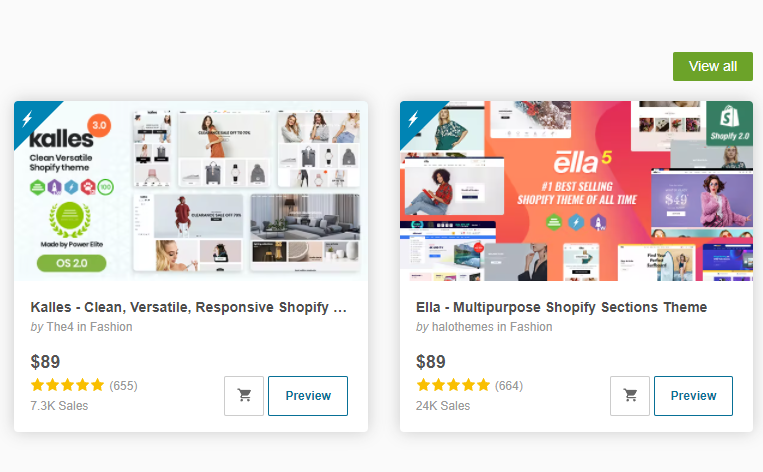 ThemeForest Shopify Themes
ThemeForest Shopify Themes will help stand out from the crowd. No longer will your store look like the many other stores where the owners simply use a free theme or the debut theme.
The Takeaway
ThemeForest has been around for a while, but the demand for building eCommerce empires has seen Shopify theme sales increase 10 fold.
With the increase in theme sales, has seen ThemeForest climb the proverbial ladder to become a leading Shopify theme seller.
To be the best, you have to have an epic store, awesome customer service, a great product, and a stella marketing strategy. Do this, and your empire will become a reality sooner than you think.
To summarize we've briefly covered:
The best place to buy Shopify themes
What next:
Share this post, every little helps.
Subscribe to our newsletter below for tips and tricks to help boost sales.
Additional Shopify Resources
With Shopify being one of the largest eCommerce platforms on the market means you'll never be short of resources to learn how to build a profitable eCommerce business.
Kanteneo aims to be the best Shopify blog on the market, but you may require additional resources to help you on that journey. Below we've listed a top-selling Shopify book by Veronica Jeans to help you learn how to launch a profitable business.
Author